Many experienced and trained Project Management Professionals are used to using Microsoft Project to track project schedules, either standalone or with SharePoint.
However, that's not to say Microsoft Project is for everybody.
For those of you who are well versed in Project, you'll know that it can be quite complex for team members or people who are not used to doing project management on a regular basis.
Microsoft Project is a fantastic solution but it is designed for project work, so it doesn't take account of non-project work or lighter projects that don't have a formal work-breakdown structure.
Using Microsoft Project together with BrightWork on SharePoint can simplify this process.
With BrightWork, team members can update their work in BrightWork (on SharePoint), without ever having to access MS Project.
But if you are the Project Manager, or just want to use Project, you can use that too and simply sync all the information back into SharePoint (and vice versa).
With the additional portfolio reporting capabilities in BrightWork, you can bring together details from multiple project sites and project plans in one high-level dashboard.
Watch a recorded webinar: Boost Your Project Reporting with Microsoft Project and SharePoint
Integrate and Sync Microsoft Project with BrightWork Templates
BrightWork templates are SharePoint sites that are pre-configured to manage a project.
To manage your project plan in BrightWork, you can use the native SharePoint tasks list, leverage the Tasks List with the BrightWork in-browser task scheduler, or you can opt to use the sync with Microsoft Project,
If you want to use BrightWork with Microsoft Project, you go to the tasks update list, navigate to the ribbon and click on "Open with Project".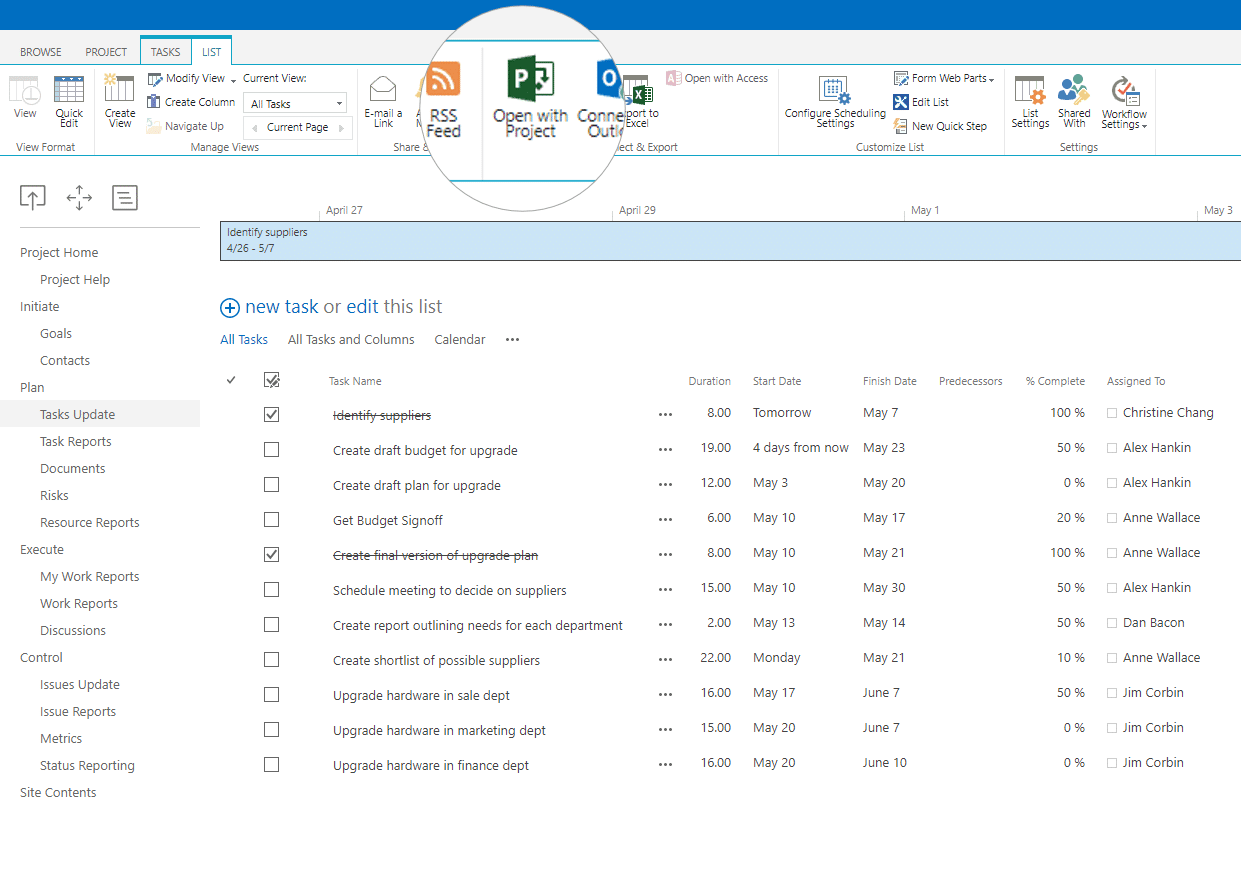 This will open your tasks list / project schedule in Microsoft Project.
BrightWork has extended the sync with a macro to sync more than just the default column mappings between the MPP and your BrightWork site in SharePoint.
The macro takes the information in Microsoft Project and maps it to columns in your project site in SharePoint, thereby extending and enhancing the power of the sync, including:
Milestones
Critical
Baseline Cost
Actual Cost
Actual Work
Planned Work
And many more fields.
The beauty of the sync is that you simply use MS Project as normal, and simply clicking "Save" kicks off the sync with SharePoint.
Simplify collaboration with your project team across multiple projects
One of the biggest benefits of the two-way sync between SharePoint and Project is that team members never have to leave the SharePoint environment to move work forward.
They get the big picture on the homepage of the project site in SharePoint, including metric tiles, open issue, late tasks, and key performance indicators.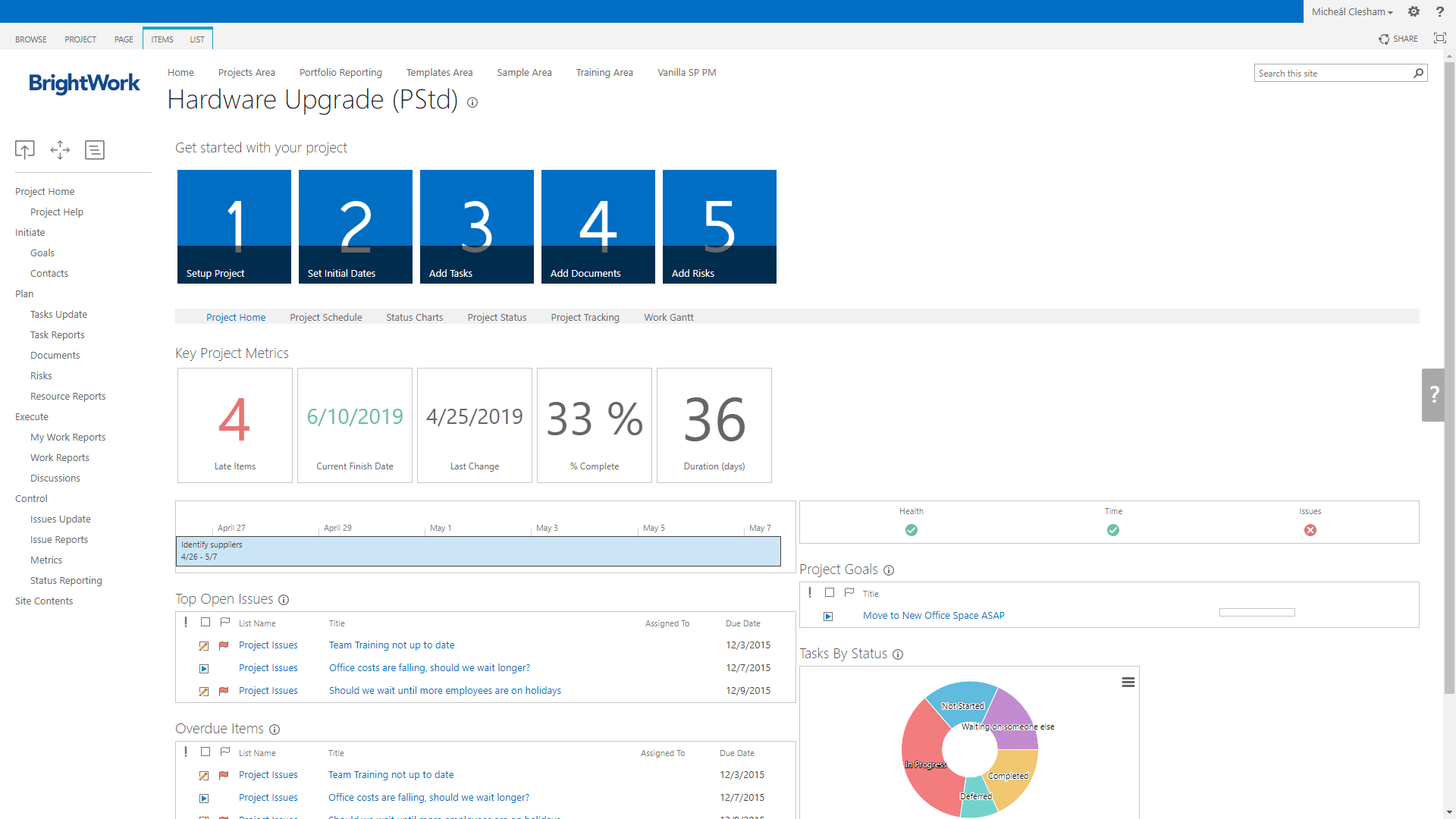 For individual team members, they simply navigate to the tasks list or work report and mark it compete, or update percent complete, and so on.
All of these updates will be reflected in the MS Project plan the next time it is opened by the project manager.
Get visibility with executive dashboards and Individual reports
One of the key features in BrightWork is the Project Office template where you can get a summary of all projects in the portfolio.
You see in the "All Projects" dashboard, for example, the R-A-G statuses that have been automatically calculated in the project site, based on the data that has been synced in from Microsoft Project – all rolling up to the Project Office reports.
You can add any other information that executives might want to see, including budget information that would have been tracked in MS Project.
Clicking on one of the project names links directly to the project site for more detail as needed.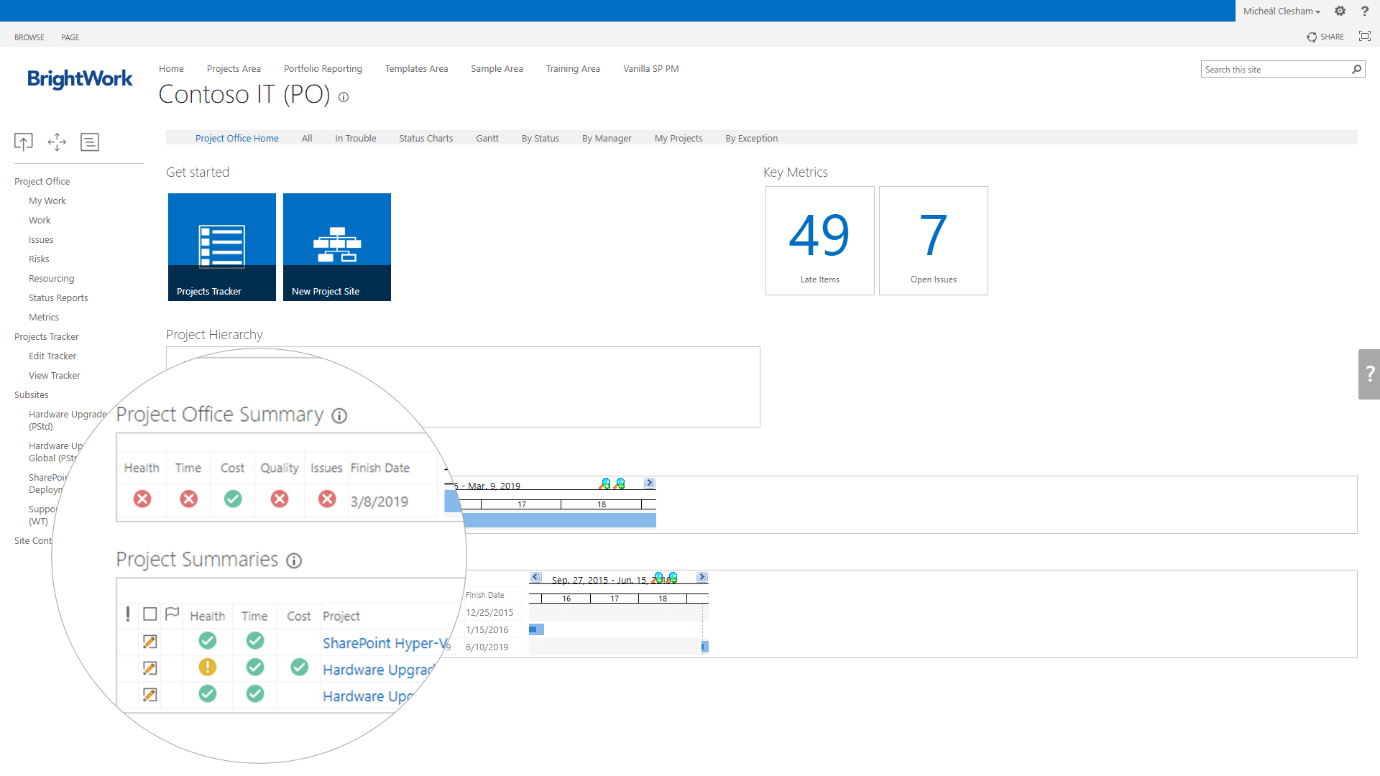 There are also a number of individual reports for team members.
For example, team members can look at their "My Work" report in the Project Office, where they will see all of their tasks across all projects in the portfolio.
Now imagine you have multiple projects in flight with multiple MPP files to manage those projects.
You or the team member would have to go into each one MPP plans individually and make the updates.
But in this case, you can get a view of all you work in one streamlined report AND if you update the work in the My Work report in BrightWork, it will be reflected in the project site and also in the MPP file the next time it is opened.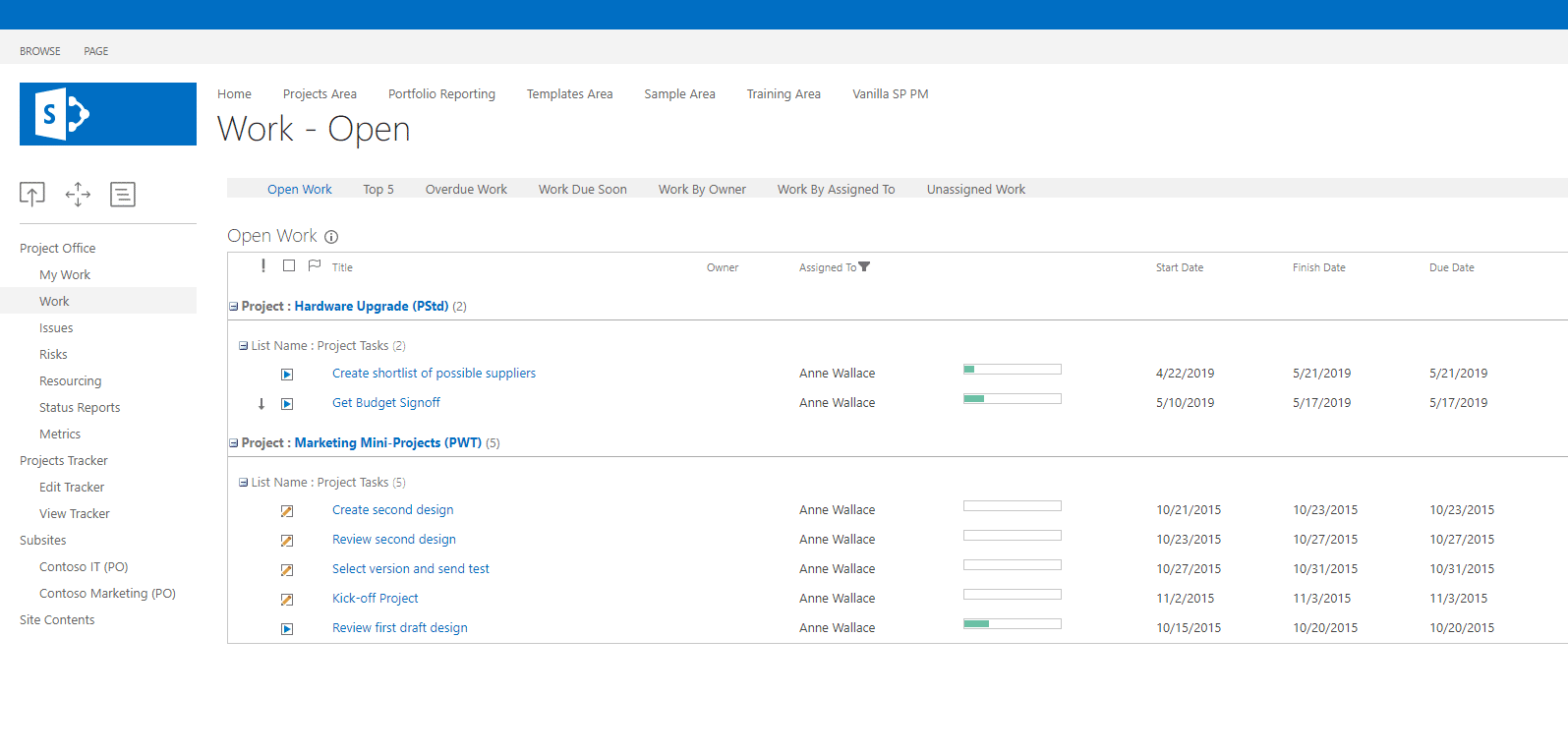 Watch a recorded webinar: Boost Your Project Reporting with Microsoft Project and SharePoint
Get started managing your projects with SharePoint
It is really easy to get started managing projects with the Free SharePoint Project Management Template from BrightWork.
Ready to use out-of-the-box, simply download and install the free template in your existing SharePoint environment with absolutely no programming or configuration required.
The free template automatically organizes your work into a project and will guide you through the steps needed for successful project management.
The free template can be used to manage a project with or without Microsoft Project.
(Visited 148 times, 1 visits today)