After plenty of discussion between myself and the Collab365 team, we thought deeply about the most suitable solution I could build given that I'm a novice in the Power Platform. With my initial goal of completing the training and passing my PL-900 we figured it was best to put what I have learned and will be learning into practice, but how do I make use of all of the relevant Microsoft technologies in a meaningful way?
We decided on building our Collab365 Today site, from the ground up using the Power Platform as the beating heart. With careful consideration as to the requirements for this build we thought of many uses for the various applications within the Power Platform which also extends to other Microsoft 365 technologies such as SharePoint, Microsoft Forms and more.
Daily Digest Newsletter Service Overview
Our aim is to completely rebuild the today site from the ground up. If you don't already know, this daily service aggregates all of the latest blog posts into an appealing digestible format, which is easy to read and share with the community. By rebuilding this solution in the Power Platform, it gives me the ability to integrate some features and services we currently do not have access to, such as categorising blog posts, checking how popular a specific post is; but more importantly, it will also make it easier for users to submit articles to our service.
After working with the team, our design flow showing how it will work and be built in the Power Platform can be seen below.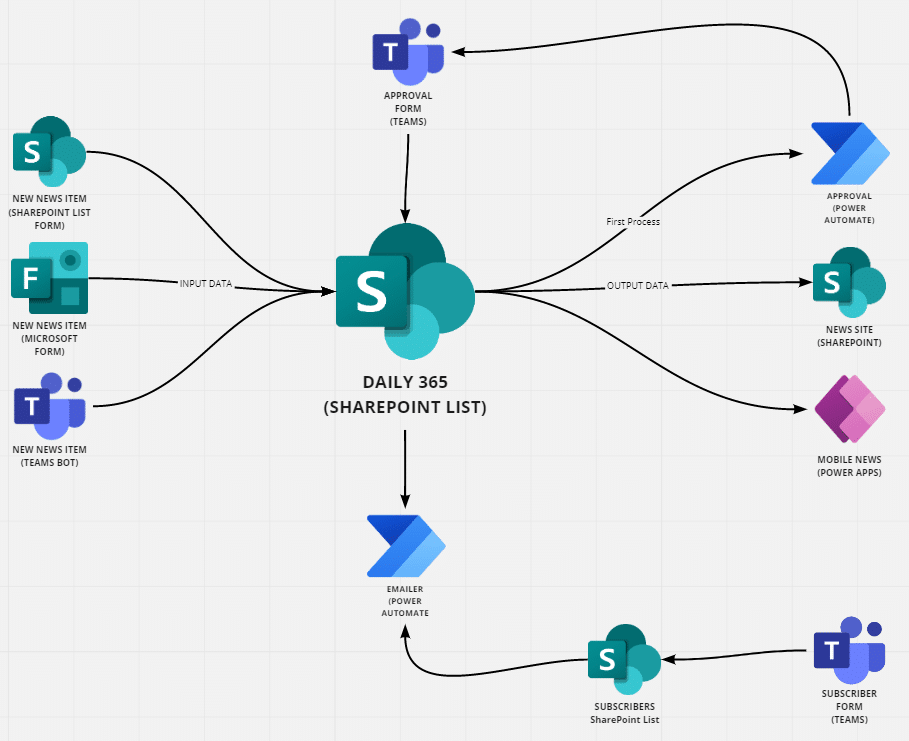 The basic concept is that SharePoint will hold an archive of articles from user submitted sources from around the web. This information can then be displayed in a Power App, in a Teams Tab or even be pulled into a digestible daily email for quick consumption to be sent automatically using Power Automate. Users will be able to submit articles using Microsoft Forms and as the solution progresses, possibly a browser extension that will work right from the article the user is viewing.
With the primary goal of providing quick and easy access to your favourite blog posts, we decided on the idea of bringing in a subscribers list, where subscribers would be able to make a preference on the categories of blog posts they wish to see for example; If you're interested in Dynamics 365 you would see a list of relevant Dynamics 365 blog posts in your feed. This approach would be fantastic as it could be used for different departments.
Why now?
Coming into this industry with little experience with Microsoft 365, I appreciate that many of you will be walking the same path I am and from a first hand experience, it can be a daunting process. You'll see an ever growing list of terms and phrases that will spark intrigue and now more than ever, Microsoft are releasing more and more products and services with numerous updates which make it impossible to keep up with. Which leads to the bigger question… Where do you start?
So I'm going to be learning my socks off over the next couple of months to bring myself up to date, by taking various courses and learning as much as I can to pass my PL-900. In doing so I wish to share my learning journey and hopefully inspire the wishful learner in you to follow my progress and stay in touch. After all, I'm here so we can learn together and share new knowledge and build a fantastic community.
(Visited 703 times, 1 visits today)