2017 UPDATE: if you are looking how to use SharePoint Designer 2013 with SharePoint Online / 2016, then please check out : "There is no SharePoint Designer 2016, but you can still use SharePoint Designer 2013".
If you followed the social activity on the web 'post ignite' you may seen that SharePoint Designer may be killed off in SharePoint 2016. See Ben's tweet after a session he attended :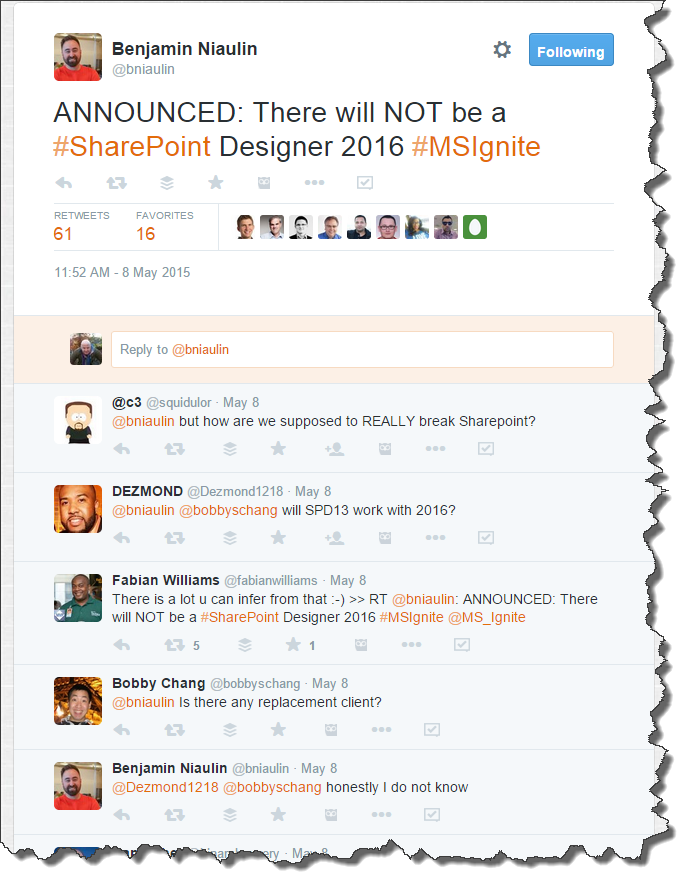 Is this for real? If so, what's going to replace it (if anything).  I suspect this is just part of the general move to stop the amount of 'customisations' that customer's currently do in SharePoint. Microsoft can't maintain and support these long term (as it shackles innovation in the product), so I think it's probably a good thing. There are often other ways to achieve the same thing in most cases.
What do you think? Will you miss it?
(Visited 362 times, 1 visits today)
Question is closed for new answers.
Add a Comment
I think this is a bad move on Microsoft's part.  Removing the ability to easily modify lists and libraries and add basic workflows limits how SharePoint is used by most end users.  Visual Studio is available for programmers to modify, but as an analyst and developer, I need and appreciate tools that allow me to provide an end product that users want to use.  SPD 2013 is bad enough, but totally removing it is a bad message to people like me.  This is supposed to be not only a content management system, but a collaborative platform.  If Microsoft cannot or is not willing to supply the resources necessary to develop and maintain an application, such as SP Designer, then they are not serious about the entire SharePoint platform.
They have the best developers, let them develop something that is worthy of SharePoint.
(Visited 1 times, 1 visits today)
Add a Comment
You are viewing 1 out of 26 answers, click here to view all answers.