Planning your project schedule is not easy but it can have a major impact on your project management success. Developing your project plan will help you allocate resources, provide a baseline for performance management, and enable tracking as the project progresses. Without this, your project could be dead in the water before you even start.
Of course, you not only need an effective project plan, you need a method and tool to track and plan your work. At BrightWork we believe that SharePoint is the perfect tool to manage your project schedule. With its out-of-the-box reports and dashboards it allows you to get started straight away and evolve with your project management processes.
Some project managers prefer to use Microsoft Project but the level of detail can be overwhelming to start with. SharePoint offers a better (and cheaper) entry point for new project managers and can always be synched with Project at a later stage. (BrightWork even includes a web-based task scheduler for in SharePoint for simple project scheduling.)
Before we take a look at why SharePoint is the perfect tool for managing project schedules, let's take a look at some scheduling challenges faced by Project managers.
Tips for Project Management Scheduling
Gather inputs from your team
Before you plan anything, you need to make sure you're fully informed. Refer to your project statement to understand the scope, goals, resources along with the stakeholder expectations and proposed schedules.
You should also check in with the project team to figure out who is responsible for the deliverables, required tasks, and phases.
Plan milestones and stages
Once you have consulted your team, you should be able to plot your key milestones and project phases. This allows you to identify who is responsible and when you expect your work to be completed.
They not only allow you to record the progress of your work but are a good way of keeping your team motivated.
Build your Work Breakdown Structure
Now that you have your overview of deliverables, key tasks, and milestones you should be able to develop your Work Breakdown Structure (WBS). This breaks your work into smaller tasks, each with an owner and a deadline.
The WBS is key to project planning and increases visibility once work gets underway.
Estimate Resources and Document Risks
You'll likely understand the workloads from the project planning process and talking to team members but it is a good idea to create a resource allocation report to identify any potential bottlenecks.
You should also document any potential risks that you might anticipate throughout your project. This should be done at the start but should also be reviewed as needed throughout the project.
Using SharePoint for your Project Schedule
Recently BrightWork customer Success Architect Traci Grassi hosted an in-depth webinar on why
SharePoint is the perfect tool to manage your project schedule.
Using the out-of-the-box 'Tasks List', you can easily add a task list to your SharePoint site.
When creating your Tasks List in SharePoint, you can:
Add key information such as description, owner, due date, status.
Create sub-tasks.
Add tasks and milestones to a timeline.
Edit tasks individually or in bulk.
View tasks on a Gantt chart.
Use pre-built views such as Late Tasks and My Tasks.
Sync tasks to Outlook.
Set alerts on the list.
Send email notifications to team members when they are assigned a task.
In the example below, I'll use the free SharePoint Project Management Template from BrightWork as our starting point. The template ships with a pre-populated task list, mapped to the five stages of collaborative project management:
Initiate the Project
Plan and Setup the Project
Work the Project
Track and Re- Plan the Project
Close the Project.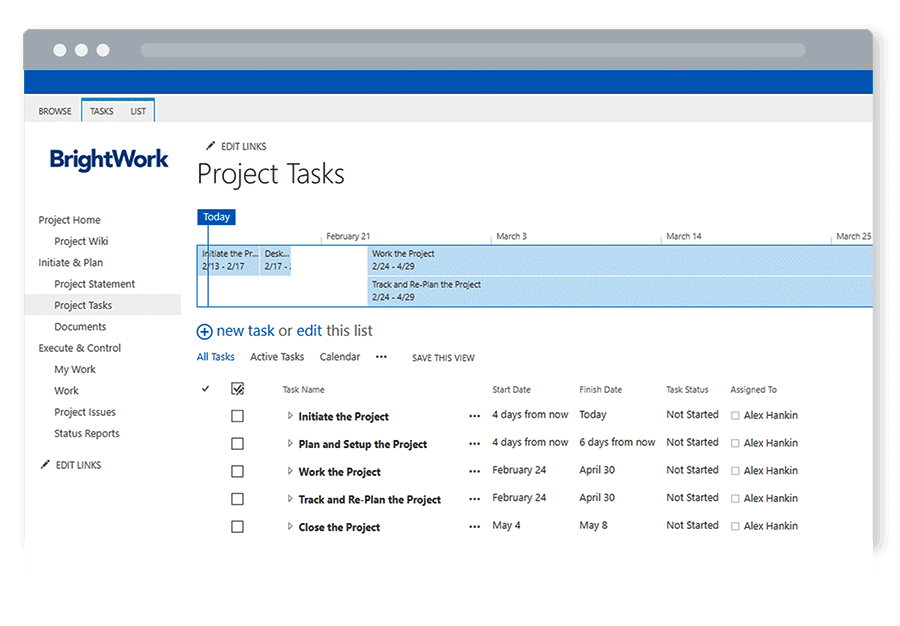 Assuming you have created your WBS in a Word or Excel document, and have installed the BrightWork free template for SharePoint , follow these steps to add your WBS to the project site.
Access the task list by clicking 'Add Tasks' on the project homepage (tile 2) or 'Project Tasks' in the Quick Launch menu.
Click 'edit this list' to start planning tasks. You can use the pre-populated list or add your own project phases and terminology. For now, just add the various tasks without worrying too much about subtasks. We'll add these later. In this screenshot, I've added the various tasks that will help me to track and re-plan my project.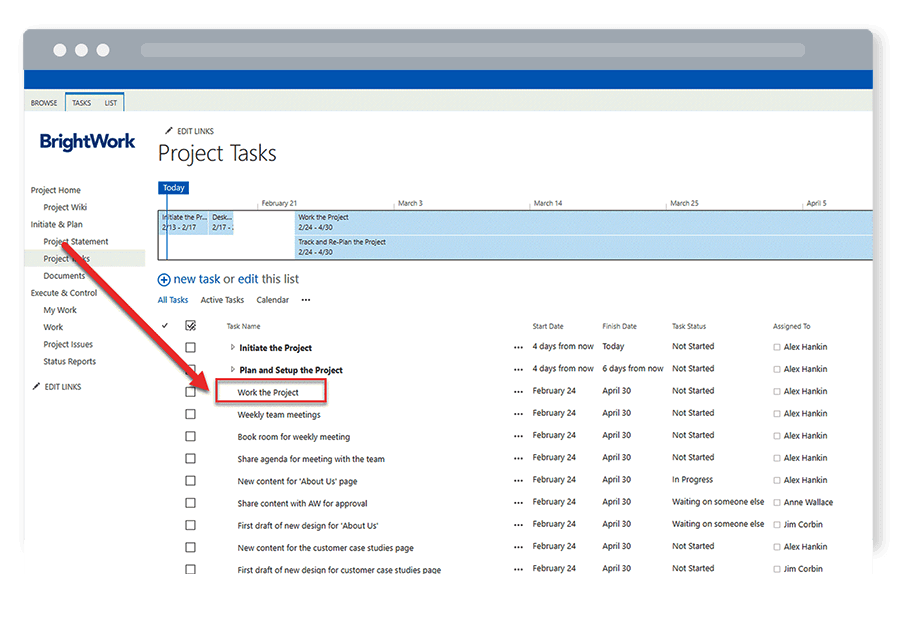 Once you have added the tasks, click 'stop editing the list' to save your work.
Next, select 'Tasks' in the ribbon. As you can see, there are options to add a task, outdent/indent, and move tasks. We'll use these features to create the WBS.
To easily ident tasks for your WBS, select the relevant tasks and click 'ident'. The main task now appears as bold, with the subtasks listed underneath.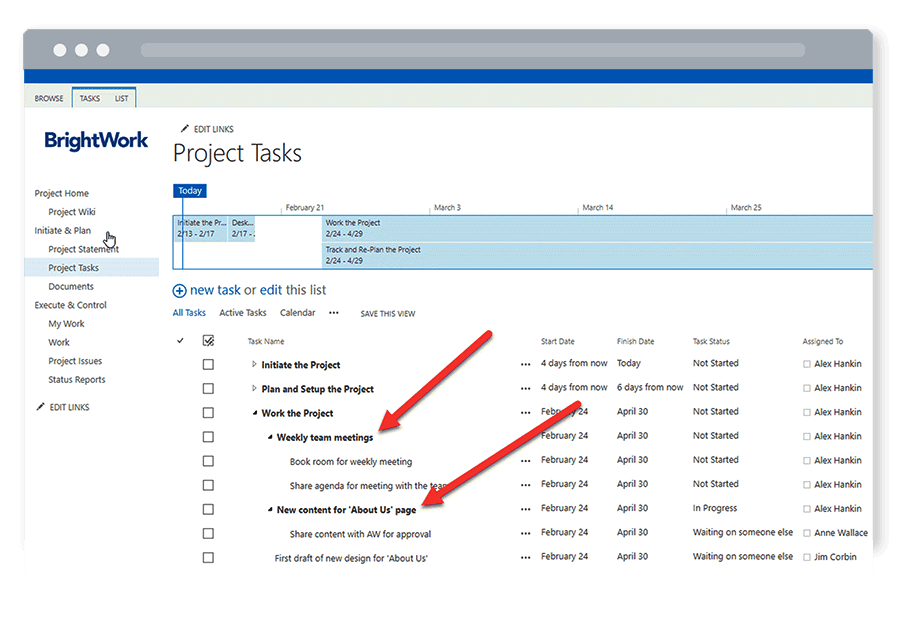 If you decide to change a subtask to a larger item, select the task and click 'outdent'.
Note – you can also use the keyboard to access these commands – click the Shortcuts link at the bottom of the datasheet to expose the below.
To add tasks to a timeline, right-click the task to open the editing menu and select 'add to timeline'. Depending on the workload, you may prefer to add just a handful of key tasks for a cleaner timeline.
Want to view the WBS as a Gantt chart? Simply click 'Project Schedule' on the project homepage.
As you can see, developing a work breakdown structure is really easy in SharePoint – especially if you are using a pre-configured template!
Get started managing your projects with SharePoint
It is really easy to get started managing projects with the Free SharePoint Project Management Template from BrightWork.
Ready to use out-of-the-box, simply download and install the free template in your existing SharePoint environment with absolutely no programming or configuration required.
The free template automatically organizes your work into a project and will guide you through the steps needed for successful project management.
(Visited 2,903 times, 1 visits today)