In our 2nd Microsoft Teams Tip, we're going to show something really cool around Email… Imagine you are a salesperson out on the road and you get an Email from a potential customer. The customer is asking for a special deal which requires you to discuss it further with your sales team. Normally, you'd forward the Email to your colleagues and then Email tennis would continue for the next few hours. Then, after a few days, it gets lost in the abyss of your inbox… One of the main drivers behind teams is to try to replace these all too common use cases where Email has often been used. In fact, I think an MS Teams Channel also has several advantages over Email namely:
Allows instant chat to happen around pretty much anything.
Stores files/attachments directly into SharePoint so nothing gets lost/deleted in your inboxes.
More structure collaboration with the introduction of tabs for things like Planner, Office Docs, Files and so much more.
You can add a 'connector' allowing you to bring in data messages from tons of apps (e.g. Trello, Twitter, CRM's, News, Market etc).
There are loads more advantages but these are the big wins where a Teams Channel would work better than a "CC all" via Email. Emails are dead 🙂 So back to the point of the post – let me show you how easy it is for that sales guy to send the Email to his channel …
Step 1 – Find out the Email address of your Microsoft Teams Channel
In order to forward / send an Email to an MS Teams Channel, you need to know what the Email address is. This is pretty simple, just find the Channel that you'd like to Email, find the ellipsis and then select "Get Email address".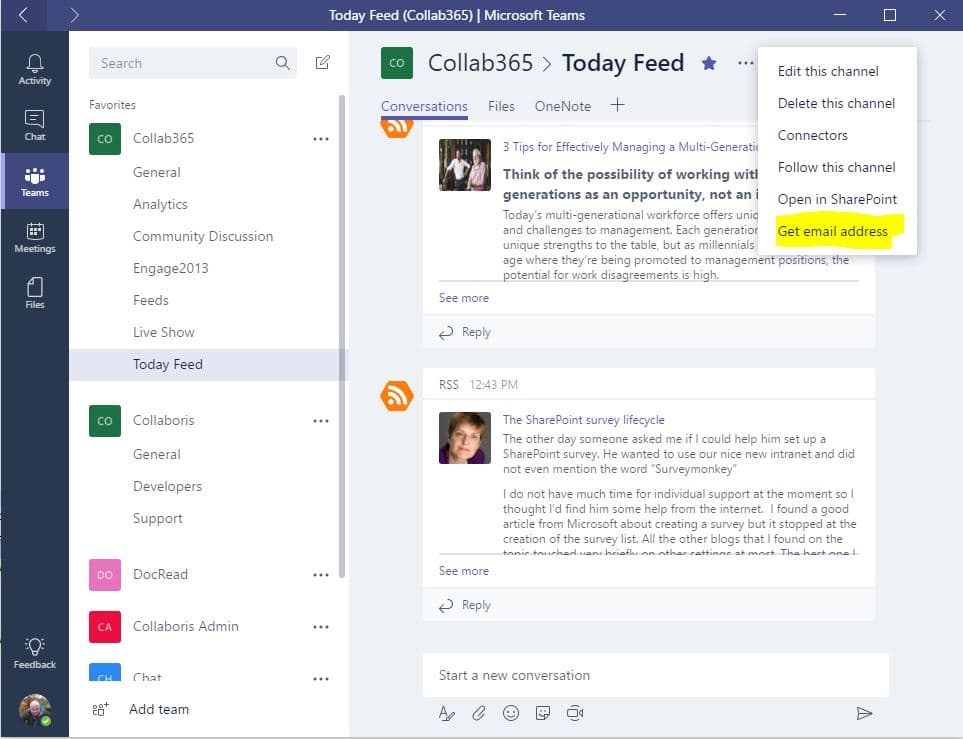 Step 2 – Make a copy of your Email address
Once you've clicked "Get Email address", just make a copy of it and you are ready to rock 'n' roll.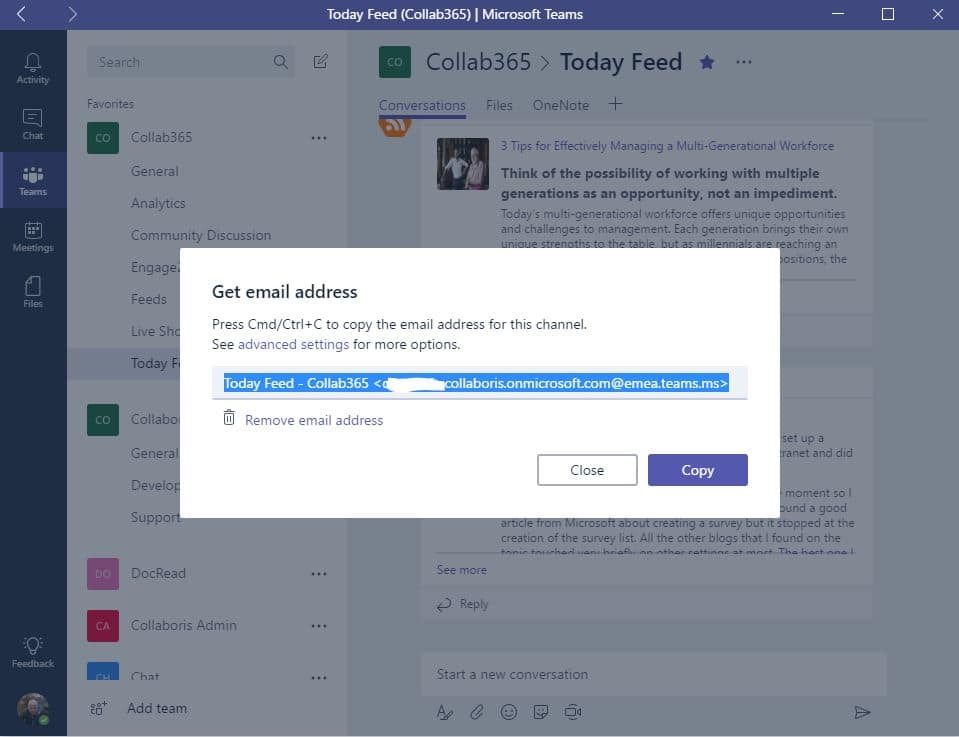 Step 3 – Now it's time to test it out and send an Email to your Channel
To do this, pull up your favourite Email client and simply send a message to the Email address we discovered above.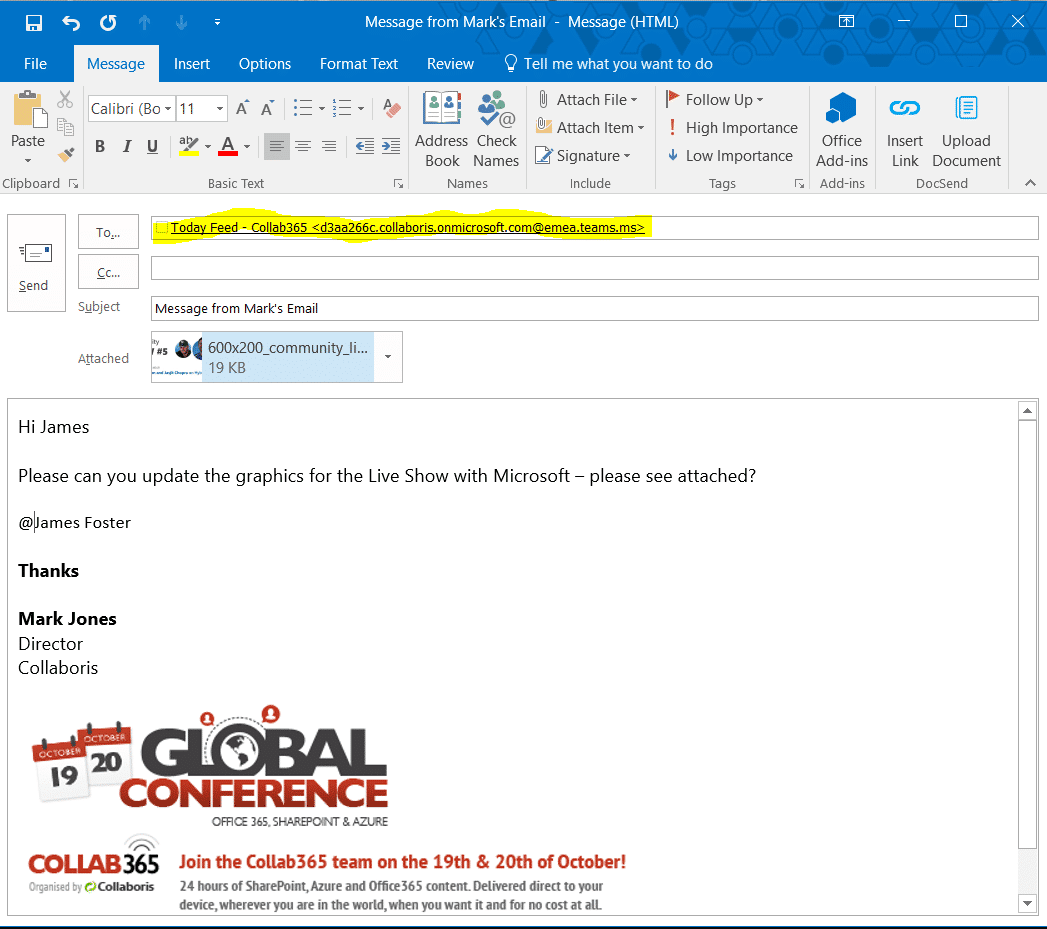 Step 4 – Let's see what it looks like within Teams
The screenshot below shows how the Email looks. Few things to note:
It shows up in the "Conversations" Tab.
Any attachments (the photo I attached) are extracted and saved to the SharePoint document library for the channel.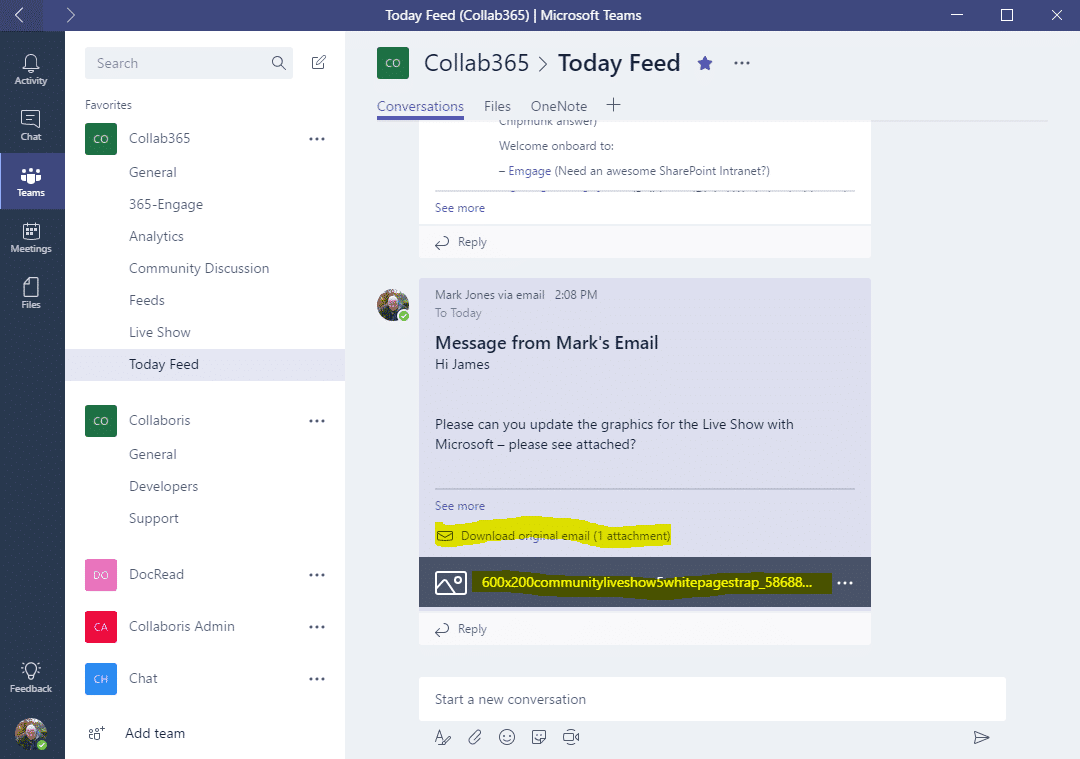 Step 5 – See how the Email and the Attachment are stored within the "Files" Tab.
One very cool process happening underneath is that the Email along with the attachments get stored in the SharePoint site that's created when you create the channel. Look at the image below to show how the Email is stored in a document library called "Documents" within a folder called "Email Messages". This gives these benefits:
No data is lost 🙂
It's searchable and organised in one place.
You've got the power of SharePoint at your disposal so you can provide some further workflow to the Email (perhaps using MS Flow).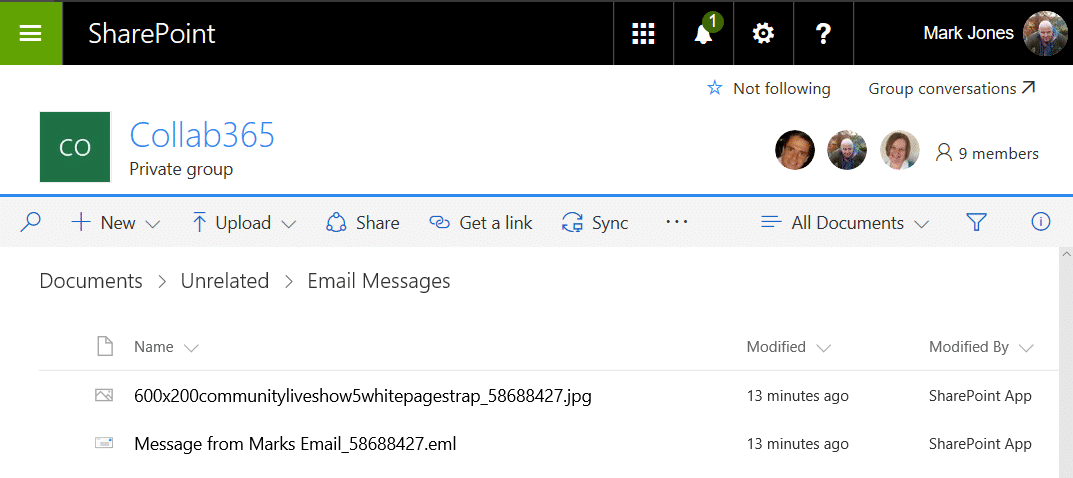 Step 6 – Finally, this is how the Email looks within Microsoft Teams.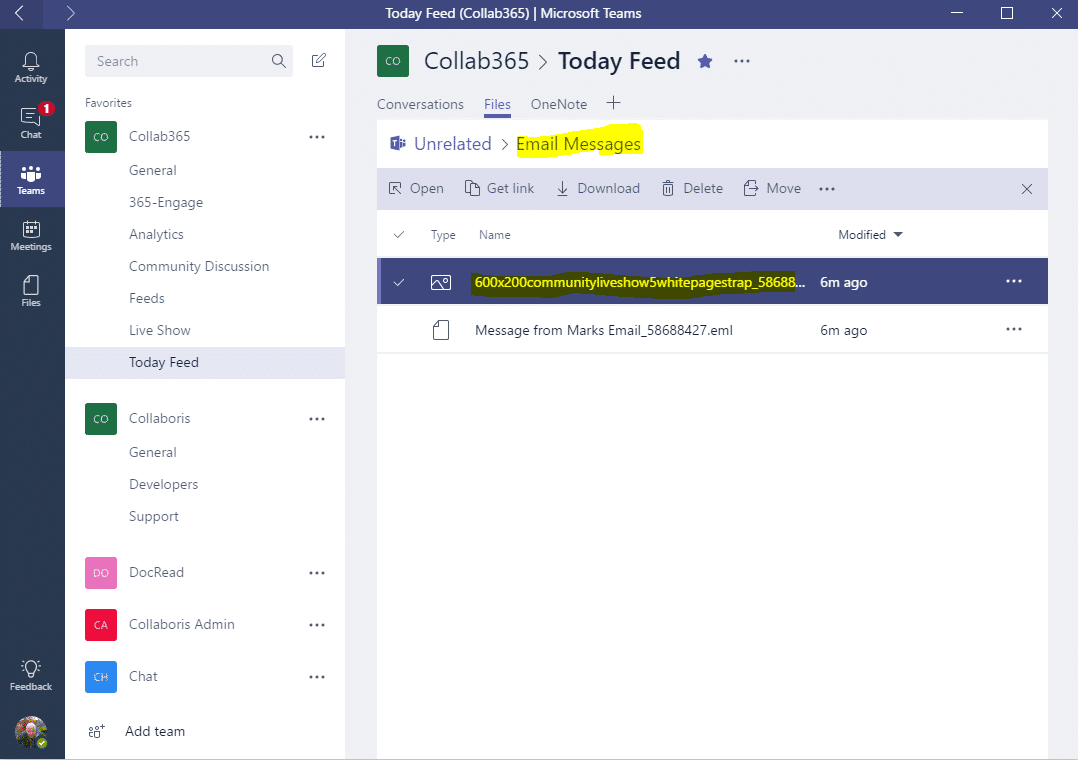 (Visited 37,219 times, 1 visits today)