On our most recent episode of the Collab365 Live Show, special guests Alex Pearce and Mark Stokes discussed how Office 365 Groups are used all over the Microsoft landscape.
In this post I wanted to drill further into some of the concepts around Office 365 Groups.
What are Office 365 Groups?
Originally created by the Microsoft Exchange team, groups were meant to allow for easier collaboration both within, and outside your organization. You could have email conversations saved within your groups, and share and author documents. For a while, Office 365 Groups and SharePoint Team Sites kind of clashed with each other. It could be really confusing deciding when to use what. These days, Groups, SharePoint, Teams and the rest of the Office 365 work together pretty well (but it's still a little confusing in places).
You may have already noticed this, but whenever you create a new Team Site in SharePoint Online, or a new plan in Planner, you get an associated group (and an automatic Team site, Planner, etc.). This is intentional. Office 365 is meant to be a cohesive set of tools to help you collaborate as efficiently as possible. Microsoft is aiming for a more personalized user experience, delivering only relevant content to users. Groups helps determine which content you see, and you can use your Delve profile as the portal to this content.
How do Office 365 Groups work with Teams?
Office 365 Groups are of course used within Microsoft Teams. Since Teams run on top of SharePoint Team Sites, and groups are integrated with SharePoint, it makes sense that they would play nice together. In fact, Teams basically sits on top of Office 365 Groups.
Teams build on from Office 365 Groups in that it allows for real-time, yet asynchronous conversations within your teams/groups. With Groups, conversations existed, but they existed in Exchange, and functioned essentially as regular email. Teams is built by the Skype for Business team, and allows you to organize your conversations into persistent topics and tabs. You can even have a tabbed conversation inside a top-level tabbed conversation!
What happens when you create a new Team in Microsoft Teams?
When you create a new Team within the Microsoft Teams UI it also creates a new Office 365 Group. For example, here's what it looks like when you've added the new team.
Note: If you've already got an existing Office 365 Group and want to use that for your new Team then you can select it at creation time.
I've added a new file to demonstrate what it looks like in the various other services.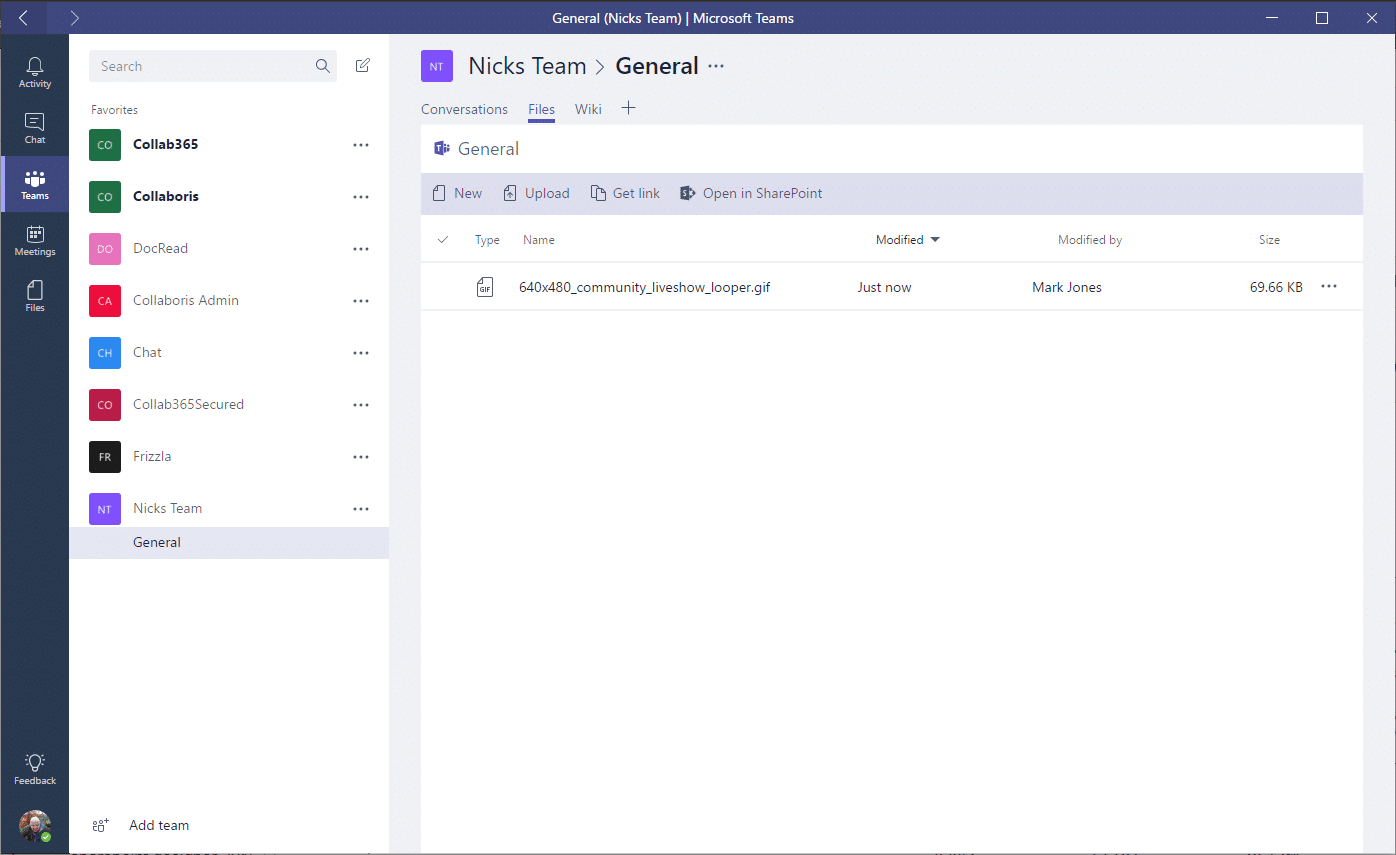 Now the Team is created it has actually created a brand new Office 365 Group within Azure Active Directory: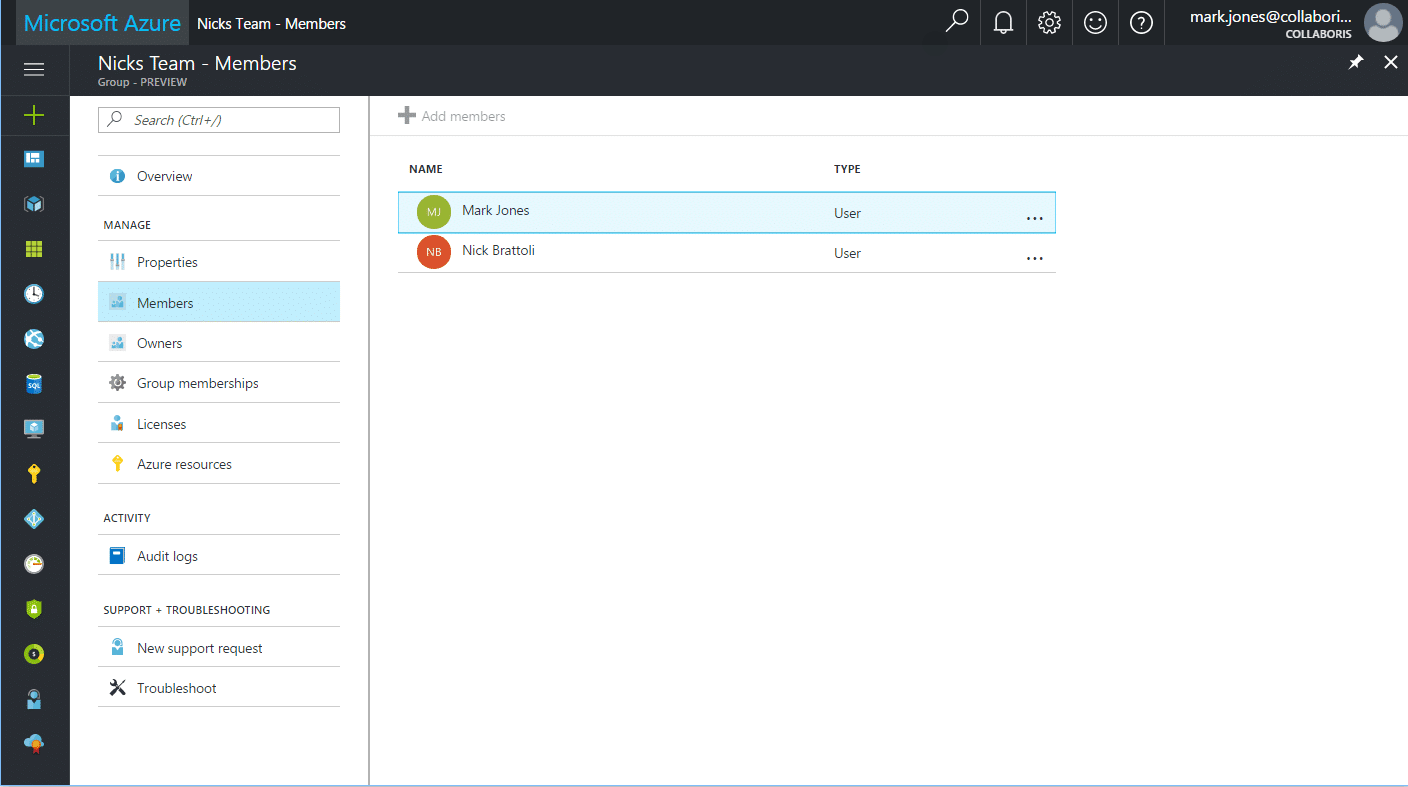 And here's how you can see the group in Outlook :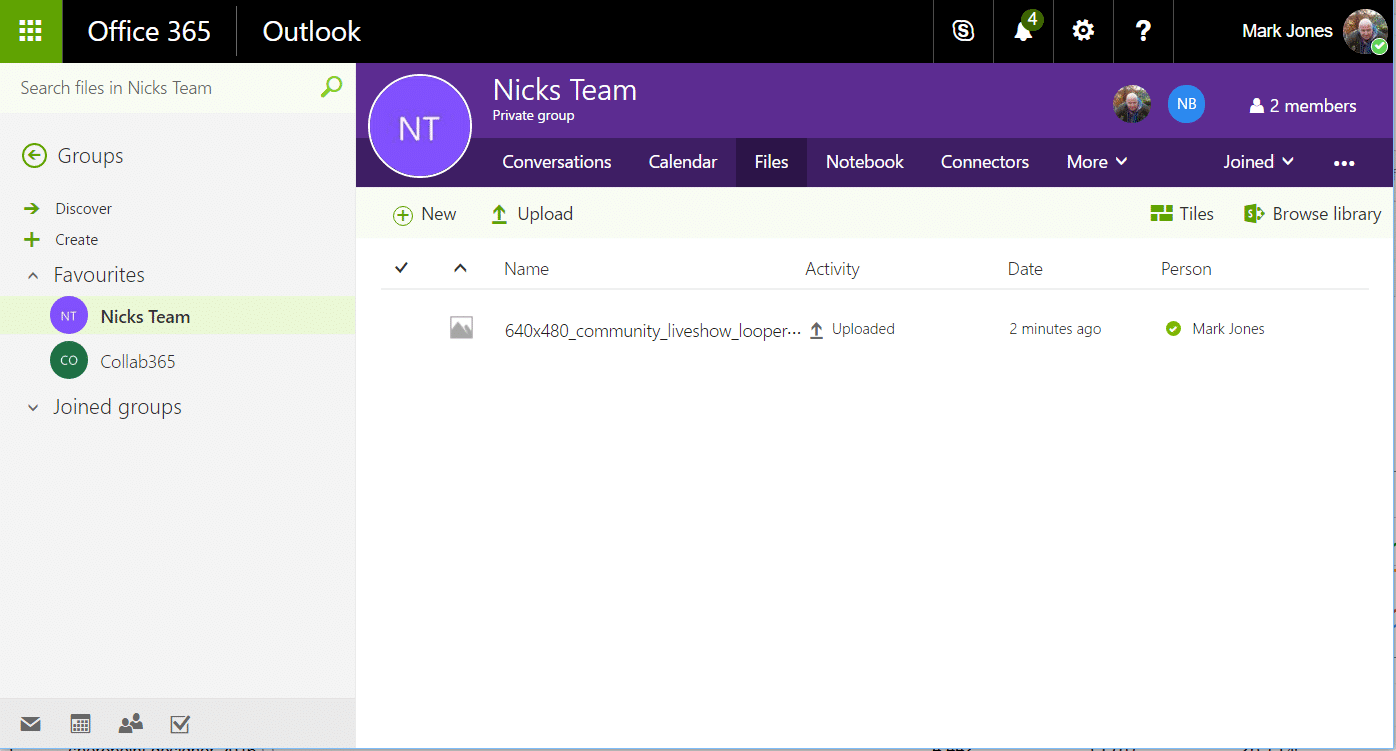 Here's the group being used in Planner: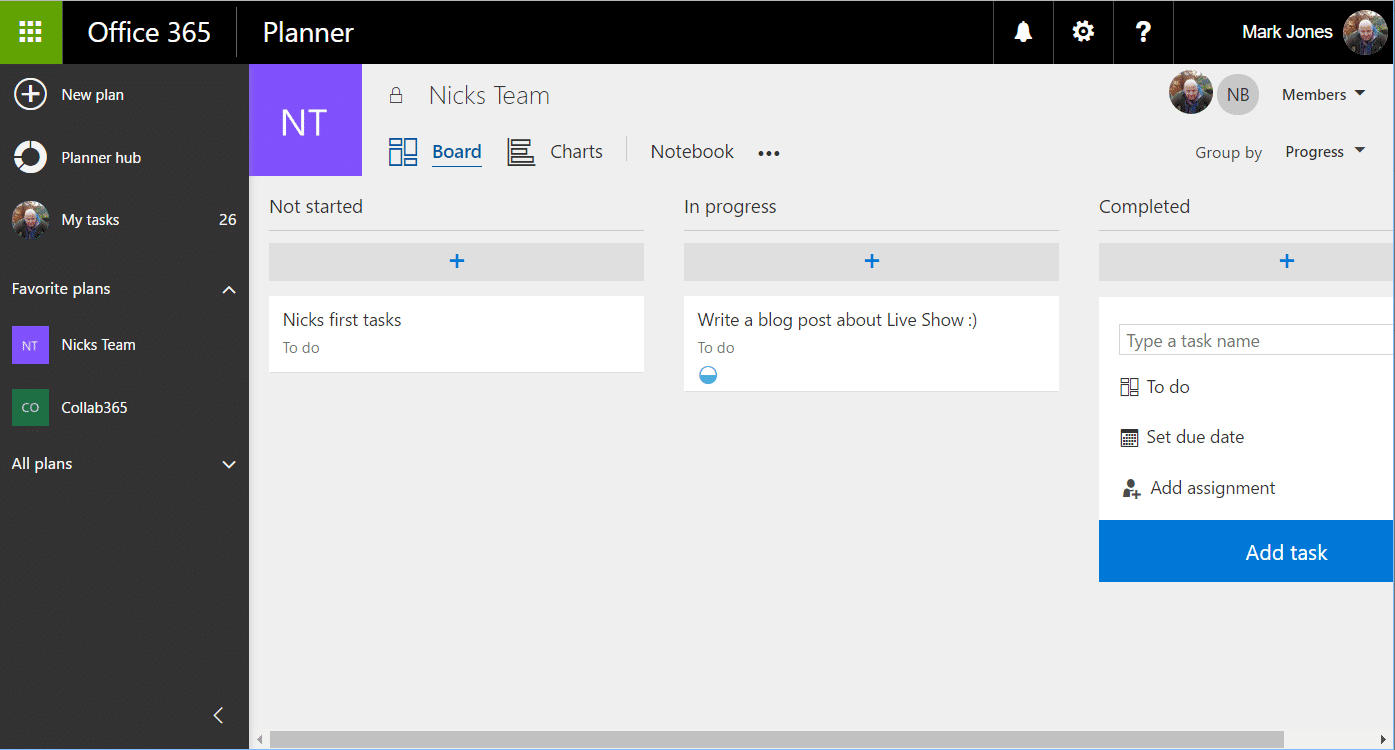 And if you're interested here's the file surfaced inside of SharePoint: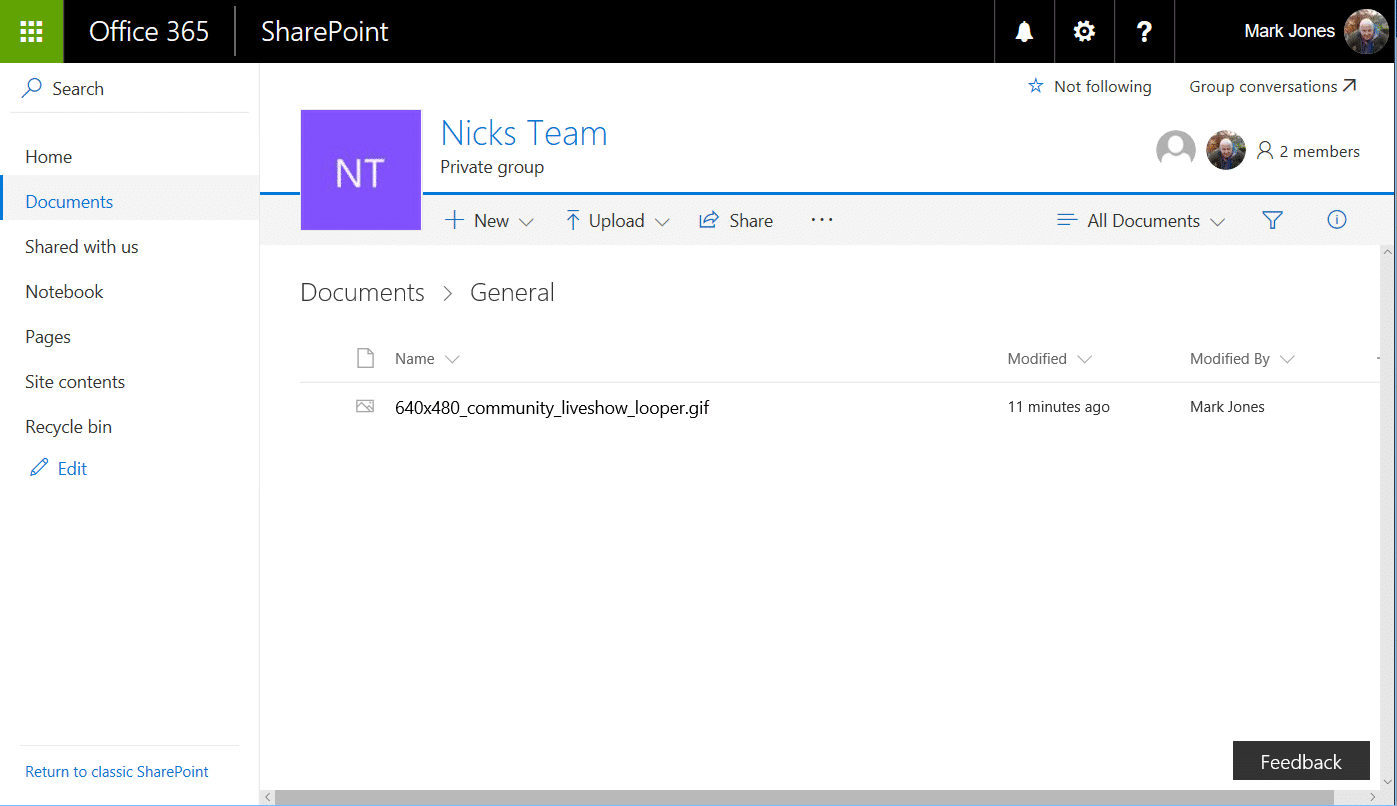 While Teams is still pretty new, and I'm sure will have a lot more features down the road, it fits well within the Office 365 realm.
How do you manage them?
The governance of Office 365 Groups can be quite tricky. One of the nice things about Groups are that they can be created by your end users, taking some work off your IT department. By allowing employees to create Groups, you empower them to work how they want to work. When a new project, or committee, or department is created, the person in charge can create a Group with everyone involved, and they will automatically get an associated SharePoint Team Site and Planner, and they are free to create some channels in Microsoft Teams as well!
Just by reading that, you can see the inherent issues with allowing just anybody in your organization to make any Group with any name. This can cause a lot of issues, especially if you have existing SharePoint sites, or want to make a new publishing site for your HR department, but someone already made a Group and a Team site. What can you do?
Luckily, there are ways to deal with these kinds of things. First of all, you should always have policies and procedures around any software you are using, and Groups is no exception. Come up with a naming scheme for the groups, or even just come up with a list of "reserved" names nobody can use.
If you don't want just anybody in your company to be able to create Groups, you're in luck there as well. Using PowerShell, you are able to limit who can create Groups. It's a good idea to have a policy around this as well. Like most things, having a solid plan is key. As long as everyone is on the same page, you can use Groups to best support your organization's needs.
Parting thoughts
During the Live Show, we discussed the road map for Groups, which didn't have a whole lot of information currently, though external users were recently added. However, it's clear that Microsoft intends to keep integrating Groups with all of the Office 365 apps, so it's important to keep track on the roadmaps for everything. Right now, the bots in Teams are a hot topic, but new stuff is coming out all the time.
Microsoft Groups is a pretty mature feature of Office 365, and organizations can really stand to benefit from its use. Groups are automatically created when you do most things now. It really is best to embrace them.
To learn more, please watch or listen to Episode 4 of the Collab365 live show with Alex Pearce and Mark Stokes, and tune in for the next episode!
(Visited 126 times, 1 visits today)