User adoption is always one of the biggest hurdles to pass when implementing any kind of technology. This is double true in the world of SharePoint and Office 365. There are just so many different options and features that it can become overwhelming. Because of this, sometimes organizations have trouble properly leveraging the technology they have access to.
On June 6th 2017, I was joined by Dux Raymond Sy, Kate Forgione, Asif Rehmani, Andy Talbot, in one of our live shows where we discussed SharePoint User Adoption Tips , further to that we also wanted to see what everyone else thinks. So, we posed this single question to the internet:
"In your opinion … what's the best way to get your users to use and love SharePoint?"
There were a whole lot of responses, and not surprisingly, they all fit into pretty distinct areas, represented with this super unscientific chart I made by grouping related responses the best I could and counting them.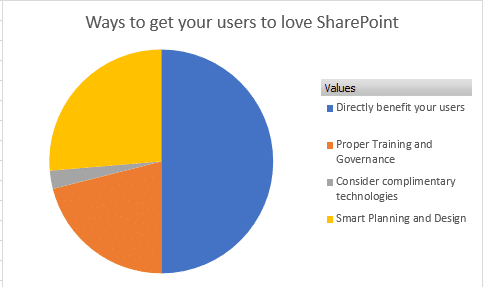 As you would suspect, it's clear that the best way to get your users to love SharePoint is if it's good for them. So there you go. Good luck with your implementations!
Just kidding. Let's dig into those categories and the responses therein.
Smart Planning and Design
Like most things in life, you can't skip the planning and design phases. Here are what some of our respondents had to say:
Rick Allford – Quick wins. Interview business unit(s), identify the simplest, quickest solution for the biggest impact and deliver quickly and completely.
Nigel Leman – Keep it simple and aim to have docs no more than two clicks away
Ernesto Meneses – Creating self-guided processes for the users and applying some branding to improve UX
Robert Strickland, MCP – I find a lot of people forget about the UX!
Peter Adams – Design it properly, augment it properly, make it about the content and purpose NOT the technology. Add case study training, go overboard on championing the possibilities and understanding the UX. Adapt the solution to fit (it's easier than adapting people ). Sharepoint is not a single fix solution – it requires significant effort to augment the platform and design a viable working solution compared to the status quo. Experience suggests putting more work in at the beginning to enable adoption rather than just bemoaning the lack of it afterwards (of course, the stick could work. BAN every other solution, punish every abuser – but I'd definitely go with the carrot)
Bilal Muhammad Siddiqui – It's the content, not the tool that promotes engagement.
Keith Burton – Search is the key. Knowledge workers spend so much time searching for content, emailing around to see who has it and then recreating it. If they can search and find content easily (Google, Bing etc) then they'll not just use it; they'll champion it.
They all make good points. Before you do any implementations, identify some quick wins, and plan your information architecture and UX to be clean and intuitive. Engage a cross section of users for some of this. Extra effort in the planning and design phases of your project can save you future heartache.
Proper Training and Governance
Once you've taken care of the planning and design, you need to make sure your governance is planned and executed, and that users are properly trained. This category had the second highest amount of respondents. Here are a few of those responses:
Daniel Lioznyansky, MBA, MCITP – Train, train and more train, without using the word train:) Use gamification strategies with users to keep them interested and to come back for more. Use morsel feeding of what can be done with SharePoint and feed them often with examples across different areas. Create governance that the users themselves establish with the support model and gate keepers.
Ciara McDonnell…how do we increase SharePoint user adoption to the likes of me? We make it personal for each individual user, as well as implementing training for your role, rather than the platform.
Pierre BIGEON – My point of view: train users on how to use it, of course, and think about who will administrate your SharePoint farm (can be a non-IT person) and how to make it as simple as possible. Put your infra team in the process at the beginning of the project when you are building up your solution, they might have very useful advices…
Germine Martin – I think training is the best way. I am just starting out with Sharepoint and I have found it to be such a great tool. Sharing the capabilities will get more people interested in learning.
Mark B. – in 7 years of my time developing with SharePoint I probably only saw 30 percent of organisations actually invest in actual training. Unsurprisingly the other 70 percent focused on customising all the out of the box functionality out of it (!) leaving a completely unintuitive product and most of these projects were a commercial failure. You need grass roots adoption by proper trainers.
Andrew Gilleran – They will never love SharePoint! Simplified, short, focused, practical and regular training. Show how useful it can be.
Chris O'Brien – Governance is vital, as well as ensuring that people understand their place in the system and why it's important. Lastly, as most other have mentioned, proper training to help end users succeed. Success will lead to engagement.
David Rosen, PMP – strong oversight.
As you can see from the responses, people tend to stress training even more than governance, but they really go hand in hand. With proper training, you can have users effectively govern themselves.
Consider Complimentary Technologies
Even though only one person brought this up, I felt it was important to include in this article. While SharePoint is great, it doesn't do everything perfectly. Consider using other apps in Office 365, third-party solutions, or even custom ones! Think of SharePoint as a part of a larger picture, rather than the canvas.
Daniel Ovaska – Avoid using it for things it's not meant to be used for. Sharepoint is a great product as is as collaboration tool with document handling / project rooms etc but too many try to make it solve problems it wasn't meant to solve. As much vanilla style Sharepoint as possible and complement it with other solutions to solve the other business problems rather than trying to customize Sharepoint heavily.
Directly Benefit your Users
As is obvious, the number one way to get your users to love SharePoint and Office 365 is to benefit them directly. Here are some tips on how to do that:
Steven Fowler – WIIFM – what's in it for me. It's about providing value. clearly explained to the content owner, content admin, content consumer the benefits of using SharePoint as it directly relates to their role and how they are measured in job performance.
Gary Bushey – Like Steven was saying you need to show them how it can help them do their job better / faster / easier.
Antje Lewald – I agree with Steven Fowler WIIFM is key, and I would add starting small and being patient with users is key. I use Doc collaboration as the entry point. Once users realize how much less painful it is to have a file in one spot, no more emailing, no more reconciling of versions, it's time to introduce automation ideas, such as approval and others. Change is hard, small steps can make it easier.
Susan Potter – The easiest start would be to post anything in SharePoint that you need to share with others in the company – documents, spreadsheets, or presentations. Send out a link and ask everyone to read and make their changes in those versions. It's a 100% easier than emailing attachments.
Jaideep Mehta – Users have pain points with the way they may be using to save documents, any changes to documents not notified, alerts, automation and so on. Every user will have grievances with the way they use the current systems to work on documents. By collating all the pain points and proving how seamless and with ease these functionalities can be achieved with one SharePoint platform will create enormous interest.
Jeffrey Travis, CSPO – As noted prior, pain points. Solve one, or two, or three and you have a friend for life who can help evangelize SharePoint. Always good if it comes from the business side w/a recommendation.
Marc Anderson– Build things with it that make their jobs easier.
Jasmine Hoegh, PMP 茉莉 – Seeing is believing. Demonstrate the value, of you can ask for sample simple processes that need improvement and build quickly.
Liz Sundet, MVP, MBA, PMP, CBAP, CSM – Find out what their biggest problem is with doing their work and introduce it as a solution in SharePoint. Teach them the easiest way to use it and how it will benefit them and then you can introduce more and more things.
Kerry Dirks MCPS MS – #1 Listen to their pain points, #2 show/demo the solution in SharePoint, #3 Tell them to spread the word, #4 Join a local community, #5 Share what you have learned, #6 Rinse and repeat.
Gurdip Sira – 1) is a good point, I've seen with SharePoint implementations it's about future functionality, not about how we migrate existing, poorly implemented SharePoint solutions, which may have a mature, established user base. Those existing solutions get ignored completely and, like I said, leads to shadow IT.
Rob Bogue – People love things that just work and solve their problems. Getting someone to love SharePoint means creating real world solutions that make their lives easier. The best implementations that I've done over the last 17 years are those were we were able to get the client to understand how to solve real problems for people in the organization. I talk about things in terms of engagement — the ability to get the folks who are creating solutions to build on SharePoint — instead of adoption. Adoption is just about use and who cares. If they have to use it and it feels like a chore — that's just not sustainable.
Libin Mohanan M – Use the simple OOTB features and show them how it can help them in their day to day jobs, like a document library, list, calendar, features like alerts, version history, check-in/checkout, access to documents, files from anywhere with internet connectivity. show them helpful videos on how to use SharePoint. ask them to explore. It won't be easy but believe me they are going to eventually like it.
Anita Weber – Research their most difficult/time consuming admin tasks (for the greatest organisation coverage) and provide a solution in SharePoint for them = instant love.
Andy Talbot – Bribe them (also professionally known as 'what's in it for me?')
Scott Peterson – Showing them at least three (3) examples of how much faster and easier specific tasks would be, using an actual prototype created in SharePoint.
Martie Odendaal – It's actually surprisingly easy: TAKE AWAY THEIR PAIN. Concentrate on identifying those business problems that cost the most time and money, and cause the most frustration, that SP can solve with relatively little effort. Look for the biggest gains that can be rolled out with the least effort. The more complex solutions will come eventually, but they will be built on a foundation of simple solutions to very happy users.
Friedrich Redelinghuys – Make it user friendly and show them the benefits. I have been working extensively with SharePoint the last few years and it is also a cultural change from all that is needed. Maybe proper Change Management. Oh, and before I forget, enough network Speed or bandwidth for quick loading.
That one simple trick I mentioned? Engage your Users!
Of course, you have to do all of these things together to succeed in getting user adoption. Here are some parting thoughts from some of our respondents:
Yathendra Nath Lingam – The important aspect is who are your target audience? Are they business users or technical users? For a broader acceptance, you should roll out SharePoint with minimal features and out of box solutions. Once users start using SharePoint for their day to day activities, you should interview the key business users and roll out functionalities which could streamline their day to day activities. When we have right solutions and happy users, we will have wider acceptance. It is a time taking process, but the success rate is high. One of the biggest challenge what I see with SharePoint implementations is, companies want SharePoint to be successful as soon as they implement it.
Tom Terenyi – Organic growth with key champions in parallel to top down planned out efforts they can actually reinforce one another. Training is key and often overlooked. And definitely I echo a lot of what has been said here about offering solid prototypes and then delivering complete solutions using as much out of the box as possible. Also you can bang your head against the wall trying to deliver amazing solutions if you don't have executive buy-in so you've got to make sure you have that as well.
Teresa N. – Plan for user adoption, get Upper Management buy-in, improve their core business processes and listen attentively to the users.
Ben Maskell – Thorough planning for user adoption, promotion and demonstration of the product with examples of best practice, and application of change management principles throughout the adoption period.
Suraj Singh – Study audience analyze their day to day work and then at first pitch only those features which are related to them or make most sense to them. As Charlie Smith stated its very hard to change someone's daily routine but that also present an opportunity to pitch some new ideas or out of the box features which can increase their efficiency and you can start that by first convincing yourself that whatever you are using is worth it (To get an idea :-)) .
Gurdip Sira – The first answer in this thread is good. I'd demonstrate how the system can achieve business process applicable across business processes. Workflows, document signing, so much more. Plenty of help resources on all of this. A clean, performant system. Training is key. Also do not force it down people's throats! Organic adoption is harder but more meaningful. Ensure that the implementation is 100% aligned to the requirements and there is some substance behind the system. Listen to everyone across the business, don't focus on the main departments using the system, but all the small systems. If you are consolidating SharePoint environments, do not leave out some stakeholders as this will encourage shadow IT and users to go for other things not endorsed by the solution! If you customise the system, do it responsibly. If poor custom code is deployed, users will blame SharePoint when it is not SharePoint, but the company and programme at fault
Charlie Smith – Getting people to change their everyday processes is hard. Reach out to some of the managers and get not only buy in from them, but also try and focus some of the out of box items to their specific job. If they find that they can do their job easier through SharePoint; you might get a bigger buy in.
Nick DeAngelo – Upper management buy-in and support is imperative… it has to be something that makes their job easier; they won't use it for the sake of using it!
Kate Forgione – At the heart of O365 and SharePoint is value. What is the value for the organisation, the team and the end user? What is the organisation trying to achieve? For an organisation that is looking at transforming, keep SPO control to a minimum, put sound governance in place to respect privacy restrictions required in the company. . Much can be done with the basic tenant of SPO to store, manage and access files, without the complexity of workflows etc. Understanding existing pain-points in the business helps people change how they work – point to search as a pain-point, or document access from the field. Bring in Delve and the Office Graph. Bring in mobile work from anywhere. The pain goes away and user experience is enhanced. Modern communication and training are helpful to improve awareness and knowledge.
—————————————————————–
The recurring theme in all of this really boils down to this, ENGAGE YOUR USER BASE! Throughout your planning, design, implementation, and testing phases, and long after, you need to keep your users in the loop. You have to have champions throughout your organization, or user adoption will be very slow.
Want to know more about User Adoption? Take a look at our live show where we discussed SharePoint User Adoption Tips
If you have any questions or comments, please feel free to discuss in the comments section. Until next time!
(Visited 185 times, 1 visits today)