So I had users complaining that links to contents on site collections, sites, documents, items etc where too long and not user friendly. Of course, you can share the url link of content, where the user gets an email with the name of the content rapped in a blue link they can click on to access the document. If the user had already gotten this email a while back and already has access to the site, another may just email the whole link of a certain content.
On clicking the link, they will be taken to the SharePoint page that host the content. What if they had lots of emails – they will still have to go back and search through their email if they had forgotten the link which is more than likely or if they cleared their browser history. If they "Follow" the content it saves the name and full url on your site (on office 365).
If the content was given a short name after the domain name of your SharePoint on promise site of your Office 365 tenancy then you could just type it in the browser rather than navigate back and forth to find the url. Even more so if you were on a mobile device, it would be cool to just quickly type the name of the content after the domain name and that's that.
Well, there's an app for that. I found an app in the app store called SharePointShortURL that shorten SharePoint urls for you. Once again it is a SharePoint application (or app) that turns long SharePoint urls to a short one. Figure 1 shows a single link in admin view.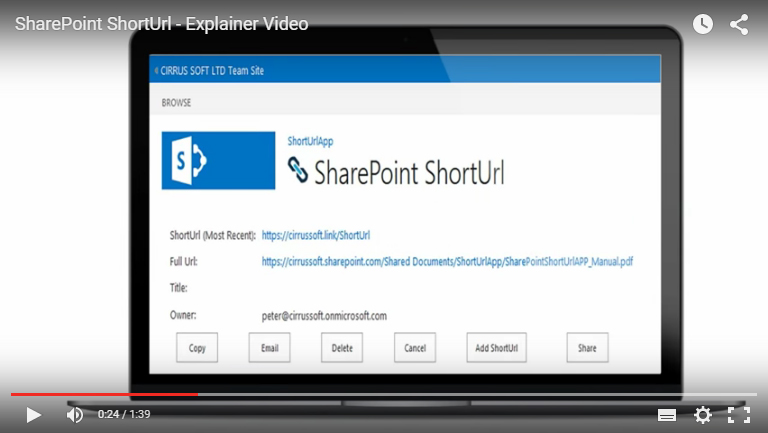 Figure 1: SharePoint ShortUrl admin
It works on SharePoint 2010, 2013 and Online. For example, if the link to an item in Sharepoint that is – https://company.sharepoint.com/sites/pr/docs/press/Document.docx?d=wf8be68c339ea45029cd021fd368effe1. SharePointShortURL can most smartly change it to; http://newdomain.com/mypressrelease where "mypressrelease" can be any name you wish. In fact, you can use "mypressrelease" as many times as you want for various sharepoint content that points to different site collections, sites, pages, items etc. Figure 2 below shows how to generate a shorturl for a single item once the app has been installed.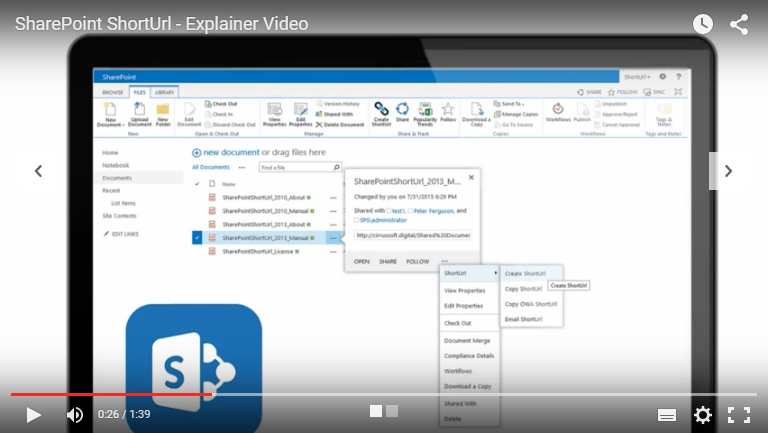 Figure 2: SharePoint ShortUrl via the advance ellipses
Having seen SharePoint ShortUrl in action by using it, I really like it. It has smooth integration with other applications, feature enhancements and/or custom Workflow actions. It is also;
Multilingual Compatible.
Easy to install, tightly integrated with SharePoint.
Create ShortUrl's for any Page, List Item Document, View, External links (FTP, Mailto).
Unlimited Shortened Hyperlinks.
Easy access via Site Actions and Items Context Menu.
Open email client with ShortUrl for sending.
Date expiry for short lived Hyperlinks.
ShortUrl links click counter and Tracking list.
Simple – Very easy to use, no training
Improves productivity
For more information check out SharePoint ShortUrl on the Collab365 Directory.
(Visited 6,214 times, 1 visits today)