As Microsoft better defines its direction and goals with Office 365, it becomes clear that Office 365 is the next generation Microsoft Office platform that dominates the business world. It's clearly apparent that this ubiquitous platform offers capabilities beyond just simple word processing and document storage.
MS Office is at the core of businesses today. Editors and marketers use MS Word to create articles and marketing collateral; accounting staff use MS Excel to keep track of company financials; sales and product teams use MS PowerPoint to reach out to potential customers; and well, virtually everyone who reads this post uses or has used Outlook at some point in their careers. Email us if we're wrong.
Employees use these applications daily for much of their work. They are familiar with the user interface and ribbons, the integration between applications, and appreciate the fact that most organizations they work with externally use the same formats when communicating or sharing.
Microsoft sees how ubiquitous the MS Office platform is. As a result, they are leveraging this dominance to go beyond office automation in order to deliver a powerful set of collaboration, communication and automation components that naturally build upon the industry standard MS Office suite.
Office 365 becomes the standard for the organization ecosystem?
Many organizations first learned about Office 365 as a way to dump their Exchange Server or Network File Server. Office 365's rapid growth over the last couple of years has been driven by clear cost savings and as a way to improve basic collaboration.
This year at Microsoft Ignite 2015 it became clear though that Office 365 is much more than a simple cloud platform. As Microsoft rolled out new collaboration services, portals and communication tools, like Skype for Business, it was apparent that Office 365 is being positioned to become the core ecosystem for the next generation organization business operation.
What Microsoft did for MS Office 20 years ago they are now doing for Office 365. Microsoft is integrating Office 365's core components and providing a common user experience across the entire platform, both in look and feel and device support.



The move from Office in the cloud to organizational ecosystem platform is happening rapidly. It is the reason Microsoft issued strict branding guidelines for components like SharePoint and OneDrive for Business. These components are no longer standalone but part of this larger ecosystem.
At the center of Office 365 is Azure and SharePoint. Both of these platforms are now the underlying infrastructure rather than standalone platforms. Users will interact within the organization through portals or a full Intranet structure.
In some cases small- to medium-size businesses and operational processes, such as time-off requests, expenses, and internal service requests, will be accessed through the ecosystem in a consolidated, consistent approach for employees. The whole concept is to provide a single platform with common user interface for employees to easily interact within the organization.
Is your long-term IT strategy aligned to take advantage of the Office 365 ecosystem?
Like any technology platform there will be bumps in the road to ecosystem maturity. Ultimately Microsoft will get it right as we have seen from history. That might be next year or in the next three years. Your decisions today will impact your business tomorrow, whether tomorrow is one day or one year.
Let's go back to 1998, when MS Office was just starting to dominate the industry. Remember WordPerfect? It failed to be the dominate word processing program that MS Office is today. Ironically, as it evolved it came to look more like MS Word.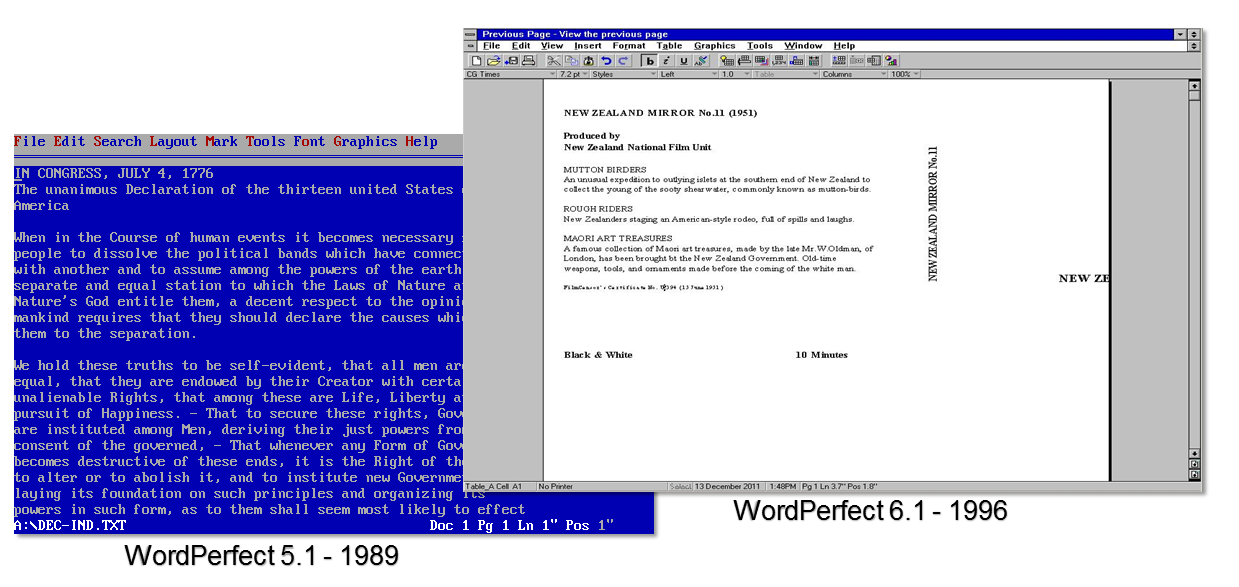 At the time, choosing an alternative word processor ended up being a poor decision that eventually cost businesses money when they had to switch. Today, the same can be said for group collaboration solutions, Intranet platforms and even stand-alone cloud applications for help desks, employee self-service or application specific portals.
One challenge many organizations face is the growth of disparate systems that require separate sign-ins, training and user interfaces that create frustration for employees. Driven by well-meaning departments, it is often a blind spot for upper management and a hidden productivity drain for the organization.
Taking advantage of Office 365 as the organizational ecosystem provides an opportunity to consolidate internal service processes, documents, collaboration and more. It allows management to step back and take a different approach to internal operations while benefiting from new technology and its competitive advantages.
Planning for the Office 365 ecosystem in your IT solutions strategy
While there are always risks when considering what technology to invest in or which platform your organization is going to adopt, the Office 365 vision is quickly becoming reality. If you are looking to deploy an Intranet portal, business application or other business solution, think about focusing on Office 365 as a platform for employee-facing applications and services. Look for solutions that:
Are built on Office 365 using the app model or on SharePoint, Azure or other component
Ensure the branding or look and feel is "Native" Office 365 to support a common user interface across the platform
Use or leverage Office 365 functions and features rather than replacing existing features. This will allow your organization to benefit from future integration and improvements
Can be administered using Office 365 native user management, security and resource allocation
While there are not yet a great variety of solutions built yet for Office 365, there are individual solutions from third-party ISVs for Intranet Portals, Help Desks, Employee Self-Service and others.
SP Marketplace is one vendor that provides an integrated suite of portals and business applications with SP Business Suite. It already is installed in more than 500 organizations worldwide and that list is growing daily.
Other businesses with individual business process applications for time off, project management, employee performance and more are listed in the SharePoint Apps Store.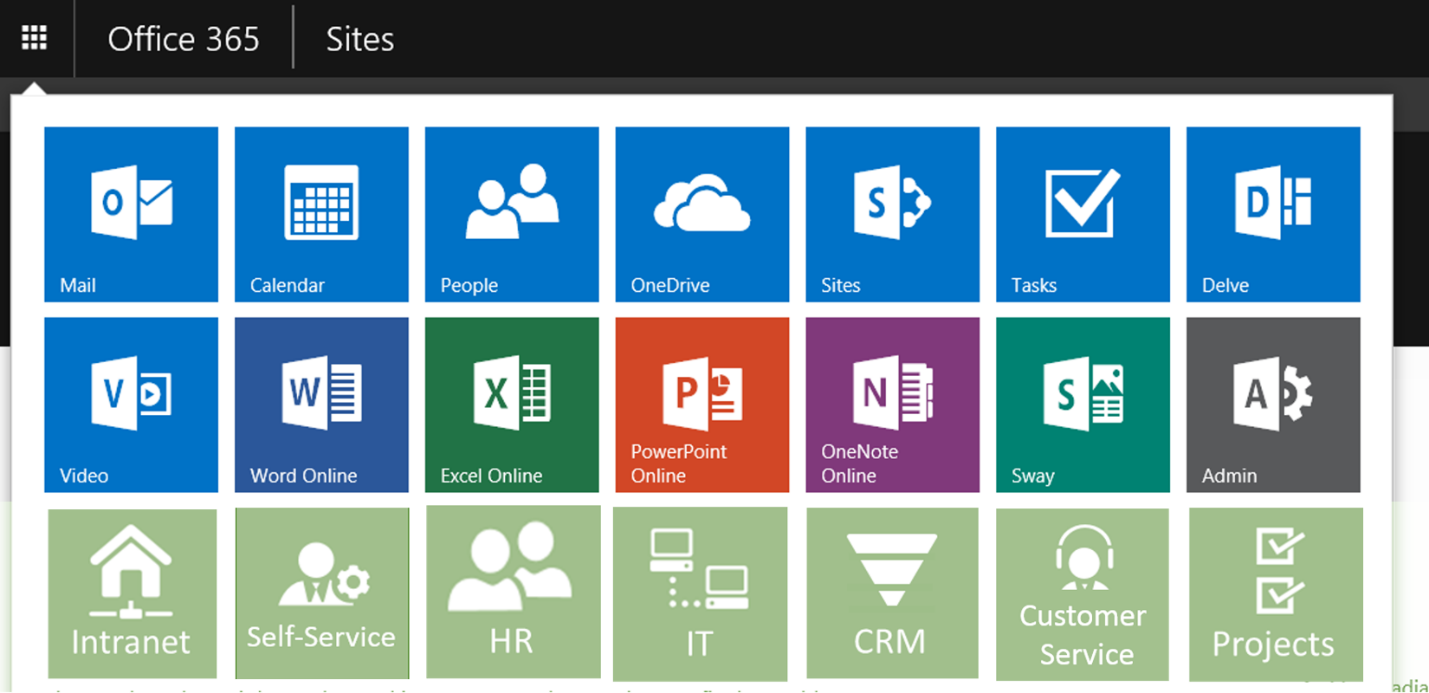 Office 365 Organization Ecosystem
Outside of portals and business solutions, take into consideration your choice for core collaboration services like online meeting tools and group collaboration. It's important for these tools to be integrated with Office functions, such as calendars, email and event document sharing. Switching out these type of tools is easier than applications but still needs to be considered.
Will you be in the right place in the coming years or be blinded by near-term demands?
Planning ahead can be difficult because it means saying "No" to best-of-breed standalone solutions that can solve a problem in the near term, causing regret when more serious technology realities surface later.
While we're not saying stop all purchases of standalone solutions what we are saying is think through the ramifications of a potential new standard arising for the organizational ecosystem and its impact on today's decisions.
Don't be the business that purchased WordPerfect because it was the best word processing option at the time but eventually faltered.
(Visited 497 times, 2 visits today)