There are several reasons that you might need to back up your Office 365 SharePoint, Exchange Online and OneDrive business data. Many IT administrators don't realize that Microsoft doesn't actually back up your data, they merely ensure that no data is lost due to system failures.
This article will look at three Office 365 backup solutions from CodeTwo, Veeam and Altaro as well as cover why you'd want back up your data in the first place.
To back up or Not to back up
When it comes to your Exchange Online mailboxes, there are four copies of your data, stored on four separate servers, in at least two regional data centers. This will protect your data against a server, network or even data center failure. SharePoint and OneDrive similarly keep your documents synchronized across two datacenters. Furthermore, there are options for recovering recently deleted documents and mail items, provided too long a time hasn't passed since the accidental deletion. However, there's no built in back up where you can "go back in time" or provide a snapshot of a mailbox or document library from four months ago for example. There's also no built-in solution for storing a copy of your data on separate media to follow the 3 – 2 – 1 backup rule. Three copies of your data, stored on two different media, one of those in an offline location.
If you need real back up, perhaps to comply with regulations or business policies with incremental restore options, you need a third-party backup solution.
CodeTwo Backup for Office 365
This solution runs on any 64-bit Windows client, including desktop OS, and it's up to you to provide local storage to house the backups. You can filter out older data for backup (only back up data from the last two years for instance) as well as exclude folders like Junk Mail or Deleted items. The program runs as a Windows service and lets you define activity periods (non-business hours) during which new and changed items are continuously synchronized to your local storage.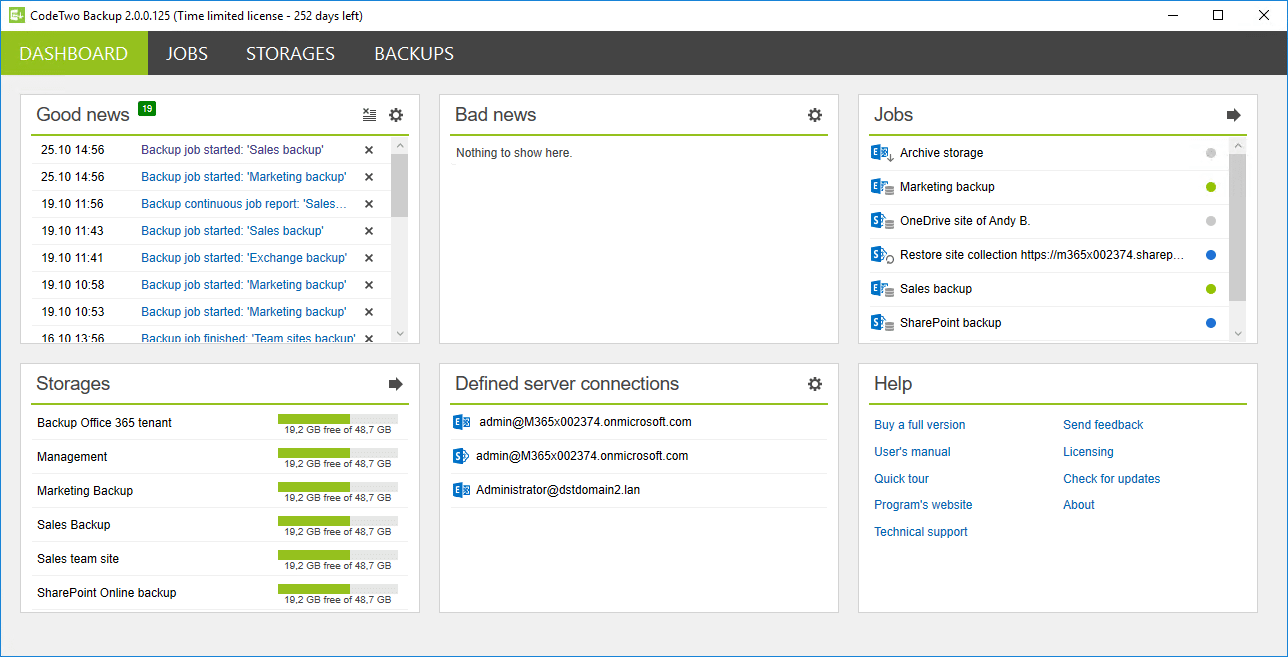 CodeTwo Backup Dashboard (Courtesy of CodeTwo)
When the time comes to restore items you can search through multiple mailboxes and pick different versions of documents if they've changed, and you can restore them to the original location or pick another folder to restore to.
Note that you need Global Administrator credentials to set up CodeTwo and if you have followed best practices and enabled Multi Factor Authentication (MFA) you'll need to use an app password for access. Also, it uses Exchange Web Services (EWS) to connect to Exchange Online, with support for Basic Authentication ceasing on the 13th of October 2020. CodeTwo is releasing an updated version of the program mid 2020 that'll support more secure OAuth 2.0 authentication.
You can grab a trial copy of CodeTwo's Backup for Office 365 here.
Veeam Backup for Microsoft Office 365
In addition to SharePoint, OneDrive and Exchange, Veeam Backup for Microsoft Office 365 v4 also backs up Teams data. It's also the most flexible when it comes to choosing where to store your data; Azure, AWS and any other S3 compatible cloud such as IBM and Wasabi, and of course on-premises.
Highlights include the option to configure multiple service accounts to stream large amounts of data out of Office 365 to circumvent the throttling that Microsoft has in place and the underlying technology for storing the data in an ESE (Exchange) database on top of cloud object storage. Note that using ESE at the storage layer provides compression of data but not deduplication. You can optionally enable AES 256-bit encryption. Other nice features are the exclusion of contacts and calendar items from retention policies and granular control over network bandwidth used for backup.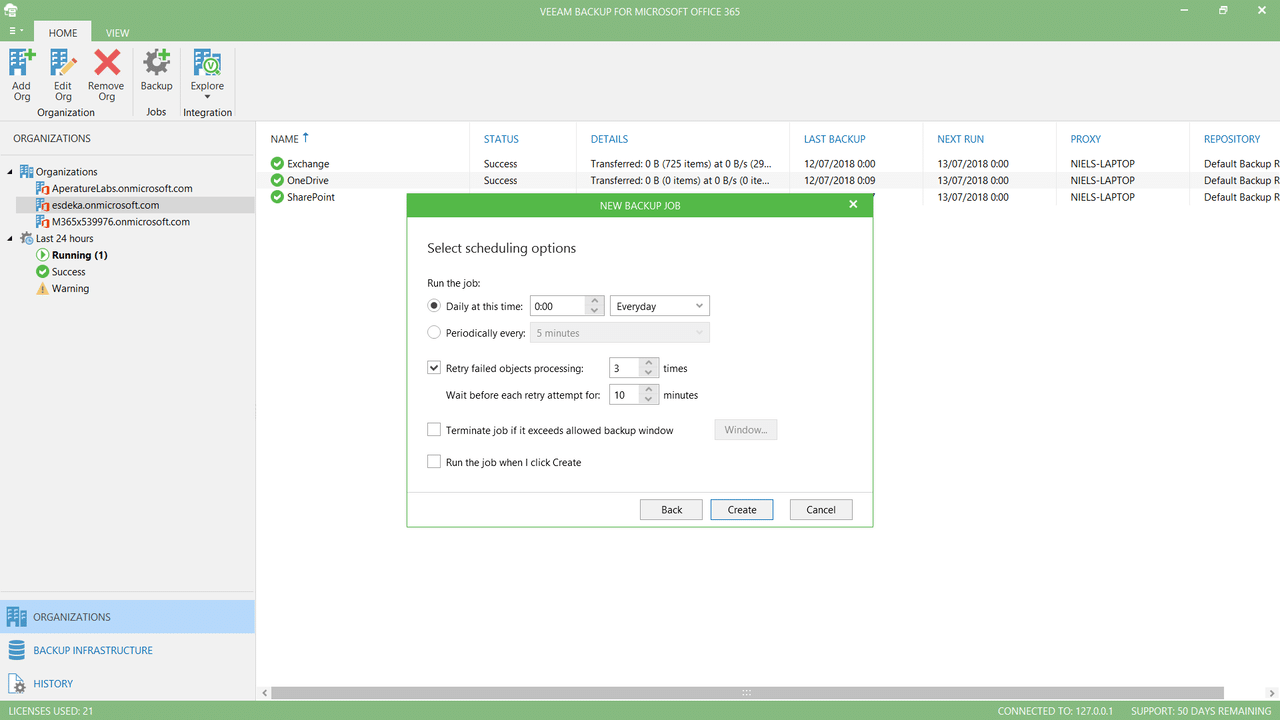 Veeam Configure new backup job (Courtesy of Veeam)
Where CodeTwo relies on a locally installed program and always backs up to local storage, Veeam is more flexible but requires a Veeam server to be running, either on-premises or in the cloud. If you have larger deployments, you can add multiple proxy servers for better performance. Note that for cloud to cloud backups, only metadata is cached on your local server, the data itself is copied directly from one cloud to another. The requirement for a backup server makes a lot of sense if you're still in hybrid mode with some mailboxes in Exchange Server, or documents in SharePoint Server but it makes less sense if your business is cloud native.
Restores are very flexible (including support for eDiscovery and easily finding data in mailboxes that are under Litigation Hold) but be aware that if you're restoring large amounts of data from one cloud to another, take care as network egress costs may apply.
You can grab a 30-day trial here.
Altaro Office 365 Backup
This cloud native service protects your mailboxes, OneDrive, and SharePoint data up to four times a day and the underlying storage (Azure) is managed by the service itself, including encrypting your data with AES 256-bit. Being a cloud native backup solution, Altaro Office 365 Backup uses OAuth 2.0 to request permissions for your tenant.
Office 365 Backup in Progress
Mailbox data can be restored to the original mailbox, an alternate mailbox, or a compressed PST file.
A benefit of Altaro's solution is that it's really easy to get started with, unlike CodeTwo you don't need to provide your own storage on-premises and unlike Veeam's solution you don't need to manage a backup server or configure your own cloud storage. This is a true SaaS solution where you simply pay for what you use, without having to manage a server or on-premises infrastructure. It could be argued that relying on Azure for the storage is risky (since the same datacenters often house both Office 365 and Azure) but this should on the other hand give very good performance for the service.
There's also a version for Managed Service Providers (MSPs) that makes it easy for them to bundle in a good Office 365 backup solution in their plans.
The main reason I am fond of Altaro's solution though is an outstanding support, they're incredibly responsive and technically savvy.
NAKIVO for Office 365 Backup
The Microsoft 365 backup functionality in NAKIVO Backup & Replication allows you to protect Exchange Online, OneDrive for Business, SharePoint Online and Microsoft Teams data. You can perform incremental backups using Microsoft's native change tracking technology to quickly copy the changed blocks of data to a dedicated local repository. You can also store a backup copy offline to prevent a single point of failure and ensure ransomware resilience.
With NAKIVO Backup & Replication, you can set up retention policies and rotate them daily, weekly, monthly, or yearly to guarantee full control over your Office 365 backup data and avoid retention gaps. It's important to keep in mind that you can also back up Office 365 mailboxes for long-term storage since shared mailboxes consume large storage space.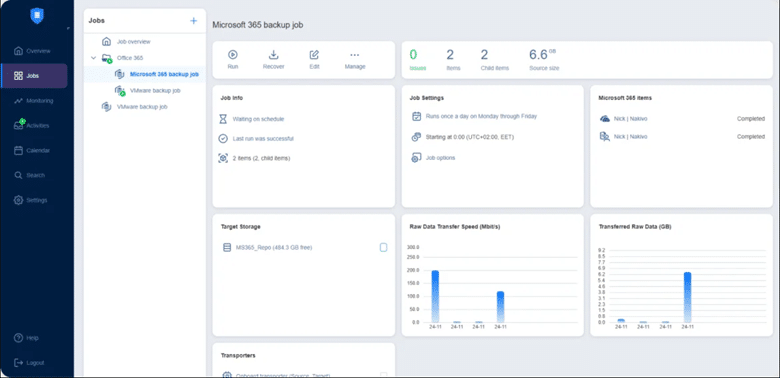 Alt text: Microsoft 365 backup job
NAKIVO Backup & Replication also provides flexible granular recovery that you can use to restore individual items instead of entire backups, which drastically reduces recovery time. The solution includes an intuitive interface and step-by-step wizards that simplify backup and recovery administration. In addition, the centralized dashboard displays all the information you need to easily locate and retrieve the needed data, fulfill e-discovery requests, and meet regulatory compliance.
You can use the multi-tenant mode from NAKIVO to create isolated environments within a single software deployment and protect the data of up to 1,000 tenants. This feature also allows you to delegate Microsoft 365 backup and recovery jobs to specific branches or business units.
NAKIVO offers two licensing options and three plans that suit organizations of all sizes. You can download the fully-featured free trial and test the solution for 15 days without any limitations.
(Visited 943 times, 1 visits today)