Today, my attention has turned to how I can plan and manage my tasks to succeed in the Microsoft 365 30-Day Challenge that I am currently doing.
This post outlines what my strategy is going to be and also what tools I've been looking at.
Why do I need to plan?
I truly believe planning is as important as the creative aspects of any project. Plenty of time can be wasted by starting a project without a plan. Things can go wrong, and you can find yourself with a very cluttered workflow. Not that trial and error is necessarily a bad thing, but especially as I've never undertaken a project like this before, I don't want to lose sight of where I am in the process or forget to include important steps. I think a plan will be essential to my success.
It all starts with a brainstorm…
Before thinking about the tasks and priority, I need to work out what actually needs building. To do that, I've read the design specification for the app and brainstormed ideas, as well as made additional notes. From here, I can begin noting down how I will fulfil the requirements. I want to understand (at a high-level), which Microsoft 365 services will be used for each task and how I will utilise them.
Learning Microsoft OneNote
A suggestion was made by Mark Jones to use Microsoft Planner and Microsoft OneNote to carry out the planning stage. In addition to not knowing anything about Microsoft 365, I also don't know anything about the two tools either!
Best get learning ..
To help with OneNote, Mark pointed me to a session by Nate Chamberlain called "You're the one, OneNote" from the Collab365's GlobalCon1 Virtual Summit. This gave me a fantastic starting point to understand how to use Microsoft OneNote and how I would make use of it in my planning phase.
Getting Started with Microsoft Planner
After opening Microsoft Planner for the first time, it was apparent how easy to use it would be. (It's very similar to Trello). It offers a simple, user-friendly experience with a straight-forward environment.
Here's what I did to get started:
First up, I create a "New Plan" and give it a title.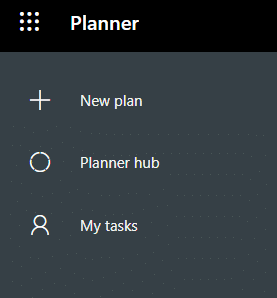 I'm presented with an empty planner where I can begin adding tasks under the buckets. I add a few buckets named after the Microsoft 365 products I will be using, thus allowing me to quickly identify where each task will be performed.

Following the Design Specification, I quickly make basic tasks under the relevant app buckets. At this point, I'm only adding tasks which I believe I can fulfil with my current knowledge, (learnt from the training resources I have completed).
To add a task, I click "Add Task" under the bucket I want to add to and write a note. Click the green "Add Task" Button underneath and you'll see your new task in your planner.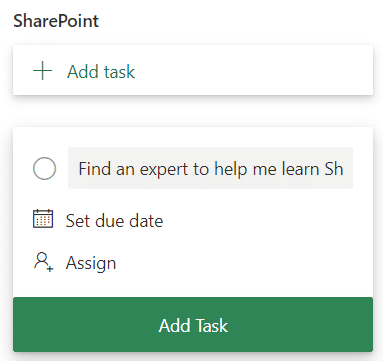 I then click on the new task card (under the SharePoint bucket) I just created and it brings up a more detailed view of my task.
At this point, I haven't learned anything about SharePoint. I know this is going be the main area where I store my data, so it's important that I learn how to use it.
With an appropriately named task ("Find an expert to help me learn SharePoint"), I can edit some of the properties of this task card. I will set the Priority to "Urgent" and the Progress to "In progress". This will leave two small icons on the card in the main planner view so I can visually refer to priority tasks.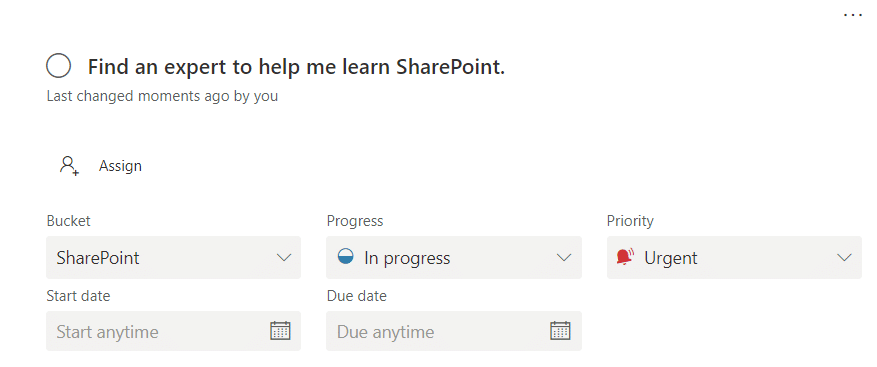 A really useful part of the properties screen is the option to add sub tasks. This allows me to add smaller tasks which when completed, complete the main task.
I'll add two items to this checklist named "Submit a request on MicroJobs" and "Find a suitable Freelancer".

Going back to the main planner screen we can see we have our new task including our sub tasks and our icons showing our priority and status of the task are visible.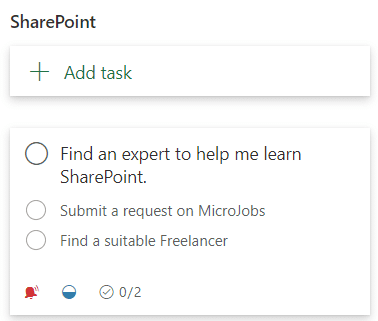 After listing more tasks, my planner begins to take shape.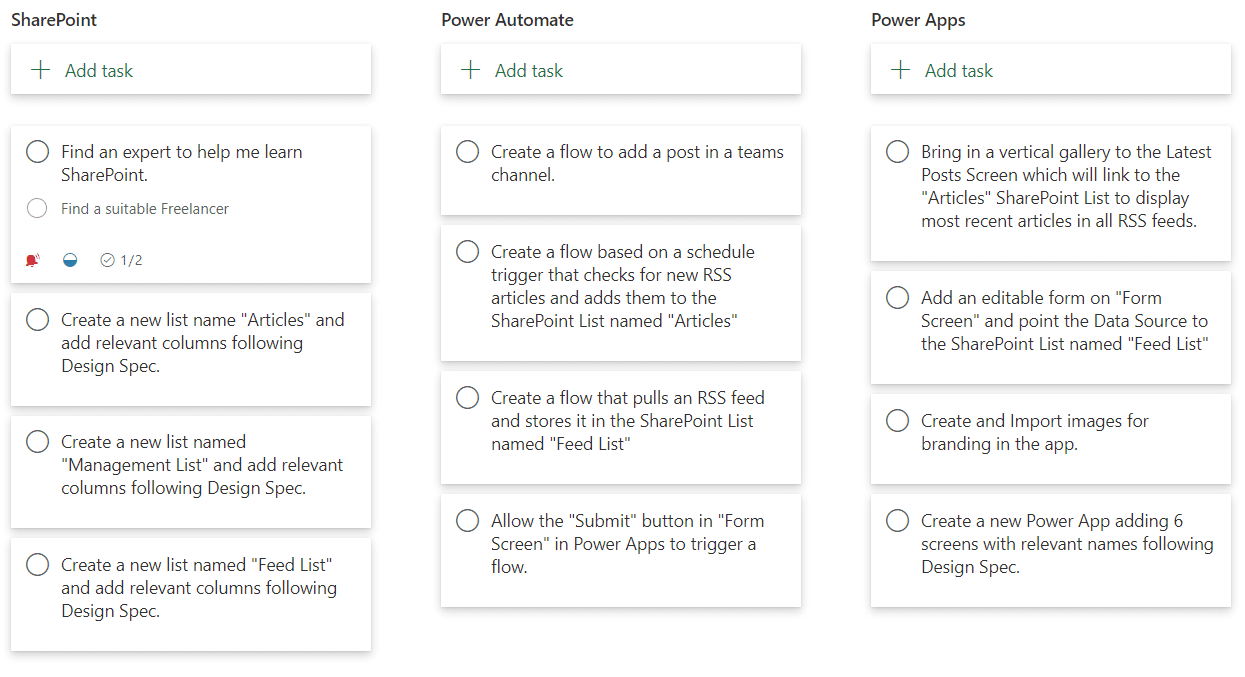 Conclusion
My plan of action has filled some gaps and is enough to get me started on the tasks at hand. I will continuously refer to and make adjustments to this plan as the 30-day challenge continues.
All in all, I found using Microsoft Planner very useful for brainstorming my plan. Many new applications can be daunting to look at, and have far too many controls for someone to use without spending hours reading through hundreds of pages of documentation. This wasn't the case here, and was quickly able to start throwing my plan together with the simple and self explanatory user-interface.
(Visited 53 times, 1 visits today)